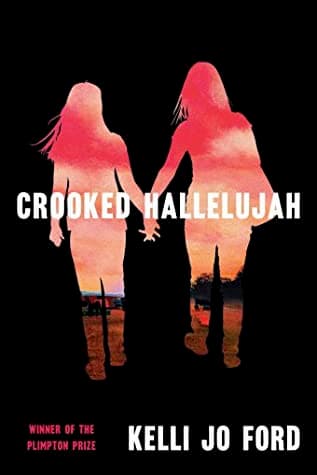 Texas and Oklahoma, during the 1970s and 1980s oil boom and bust, is the setting for Crooked Hallelujah, a debut novel about the lives of three generations of Cherokee women. Lula is the matriarch, Justine her daughter, and Reney her grand-daughter. The times were difficult, but even more so if you were a Native American and a woman. Against this arid backdrop their lives are further complicated by Lula's adherence to a harsh religion. It pushes Justine hard in the direction of bad choices as a way to rebel.
Lula held herself together with a religion so stifling and frightening that Justine, the youngest and the most bullheaded, never knew if she was fighting against her mother or God himself, or if there was even a difference.
Life in Oklahoma was never easy, but it wasn't until Lula's husband left her and their three daughters that she embraced a Pentecostalist sect where her brother is the pastor. For Justine, life goes from normal to long church services multiple times a week, no music, restrictive clothing. Fun is banished. So, when a Choctaw man in his late 20s shows interest in her at 15 she goes out with him one night. Reney is the result, but Justine goes against the church and raises her on her own. Eventually they move to Texas in the hopes of a better life with a stable man.
Unfortunately, stability isn't in Justine's genes. Mother and daughter move back and forth between Texas and Oklahoma. Despite the rootless nature of their lives with men, apartments, and jobs changing frequently, she ensures that Reney has the security of her love. Always. No matter what. Even when Reney grows up to make her own mistakes with men.
The glue in Crooked Hallelujah is the love these three women share. They stand together against the unending tide of disappointment in their lives. Lula won't abandon or renounce Justine when she's pregnant—an act against the church that seems unfathomable considering that Lula has severe epilepsy, but won't take medicine for her seizures because it's against God's will. Justine will work three jobs to make sure Reney goes to a good school and has braces when she needs them. For Reney, the love of her grandmother and mother are greater than any other she knows.
She wanted to sit up and let her mom hug her and tell her how she was the most important thing in the world, in that way Justine had of looking deep into Reney so that Reney knew her words were true…
Crooked Hallelujah is not a big book. The stories and lives move quickly. But with limited space everything needs to stay tight. It doesn't. Halfway through the novel, three new characters appear. They vaguely know Justine, but have no other connection. Their story is powerful, but lasts only one chapter and has nothing to do with Native Americans.  It's a jarring literary non-sequitur, as if author Kelli Jo Ford changed her mind about what to write, then changed back. It detracted from Crooked Hallelejuah, but did leave me wanting to know what she writes next.
Interested in great writing about Native American lives? I highly recommend There There by Tommy Orange and Heart Berries by Terese Marie Mailhot.
This post contains affiliate links which means if you click on a link and make a purchase, I get a small commission (at no cost to you).
Related Posts