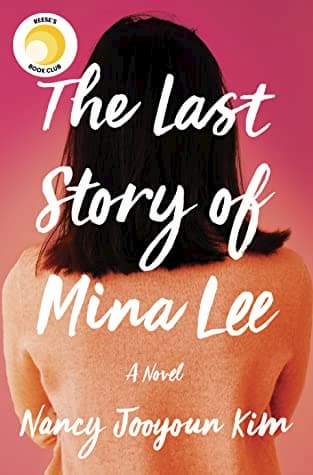 Even though her mother is the only family she has, Margot Lee has never felt close to Mina. Margot left L.A. for Seattle for college and never moved back. She would dutifully call regularly, but visited seldom. Now, she's arrived in Koreatown for a surprise visit, only to find Mina dead. The Last Story of Mina Lee by Nancy Jooyoun Kim is not a mystery thriller, but a poignant tale of immigrant parents and their first-generation American children.
By the time Margot was born Mina was as established in America as she was ever going to be. She had her own small shop at a swap meet, selling cheap goods, making enough money for the two of them to survive, but not much beyond that. Margot grew up seeing the differences between her life and those of her friends. She quickly became embarrassed, as her mother spoke very little English and they were poor. In an attempt to rebel, she refused to speak anything more than very basic Korean. What was the empathy of a child hardened into the judgment and embarrassment of a teenager. She left for college knowing she'd never return.
As she now tries to find out how her mother died Margot is tasked with dismantling her life. In doing so, she comes upon bits and pieces of the past that lead her to people her mother knew and whom Margot remembers from her childhood. Author Nancy Jooyoun Kim splices Margot's memories with Mina's voice as she shares the life her daughter knew so little about. Of a great loss that brought her to America, despite knowing no one. It is here that The Last Story of Mina Lee finds depth. A woman, alone, living in a boarding house, working menial jobs at the mercy of unscrupulous employers. A woman with few options who still found a way to survive, not just for herself, but for her daughter.
Margot is where The Last Story of Mina Lee lost me a bit. I realize the inherent difficulties between American born children and their parents, but Margot's comes off as a cold and complete repudiation of everything about Mina. When she views her dead mother's apartment she has the self-awareness to acknowledge her feelings
But Margot would incinerate it all if she could. She decorated her life in Seattle with austerity and care…against all that her mother represented to her—poverty, tastelessness, foreignness, uncleanliness, a lack of control.
The disconnect is that this awareness never translates itself into action. Maybe that's the point of the novel, but in all aspects, Margot comes off as whiny, deeply unhappy. Not just with her upbringing and her mother, but with her current life, something her mother plays no part in. It made finding sympathy and resonance within the novel difficult. Ultimately, while Margot is determined to solve the mystery of her mother's death, The Last Story of Mina Lee makes it clear that the greater story was Mina's life.
This post contains affiliate links which means if you click on a link and make a purchase, I get a small commission (at no cost to you).
*I received a free copy of this book from Park Row publishers in exchange for an honest review.*
Related Posts