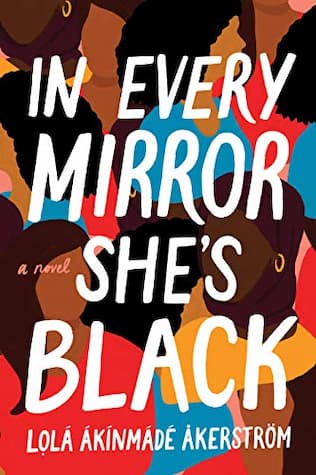 I was pulled into In Every Mirror She's Black by the premise of three Black women who end up living in Sweden. Kemi is a marketing executive who's been recruited by a phenomenal compensation project and a leadership role to a Swedish agency. Brittany is a flight attendant who is swept away by the owner of the agency when he becomes obsessed with her. Muna is a Somali refugee who works as a cleaner for the company. Three women, all at different stages of life, coming into each other's orbit due to happenstance, seemed as if it could make for interesting reading.
As best as I can tell, my expectations were off-base. I was looking for a deep dive into the internal struggles of each of the women in a foreign country, but with the exception of Muna their motivations were never clear. In fact, their choices didn't make sense to me at all. Kemi and Brittany are in their late 30s, successful in their jobs. Brittany is in a loving relationship. And yet both throw it all away to move to a country where they don't speak the language and have no community. Not to mention Brittany leaving a loving relationship for Jonny, someone she doesn't know at all whose main attraction is that he's obscenely rich.
The allure of being adored is offset by the fact that it's very clear that Jonny is on the spectrum. He has no sense of personal boundaries, cannot read social cues, and is obsessive. This is so clear that it makes Brittany's decision to upend her life difficult to understand. As if she doesn't know he has issues, which seems implausible.
In Every Mirror started out strong with great characters and an interesting plot, but devolved into what felt like chick-lit. Add to this an ending that made me slam the book shut in anger because it felt so manipulative and this was not the novel for me. If you're in the mood for lots of drama but not much depth, it's good reading.
This post contains affiliate links which means if you click on a link and make a purchase of any kind, I get a small commission (at no cost to you).
Related Posts