The Collector's Apprentice
by
B.A. Shapiro
Published by
Algonquin Books
Publication date:
October 16, 2018
Genres:
Fiction
,
Historical
,
Mystery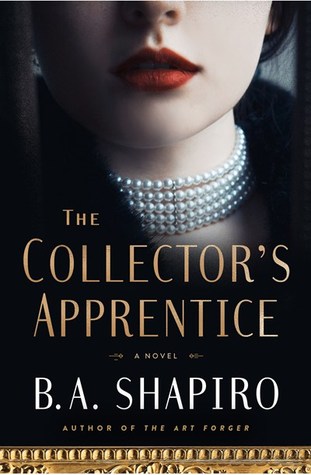 Before I share my thoughts on The Collector's Apprentice, B.A. Shapiro's new art world novel, I need to fess up that this books contains two big pieces of literary kryptonite for me. One is kind of obvious—the cover. I love the era of well-dressed, elegant women in pearls, even if I spend 95% of my days in what can only kindly be called athleisure wear (read: really old sweatpants and layers of knit tops). So, without knowing anything else about this book I was interested. Second kryptonite shard? Fiction involving art. Why? I have no logical explanation. I don't seek out museums, I can't draw to save my life, but I love art fiction. Such as The Anatomy Lesson, Tsar of Love and Techno, The Improbability of Love, Tuesday Nights in 1980…the list goes on.
Thankfully, the streak holds with The Collector's Apprentice. The novel opens with 25-year-old Vivienne Gregsby on trial for the murder of her employer, a wealthy art collector. This, despite the fact that he was killed in an auto accident. She's the beneficiary of his extensive art collection so his wife accuses her of paying someone to kill him. For Vivienne, this is yet another unfounded accusation made against her. Six years earlier, in Belgium, her fiancé turned out to be a con man who defrauded her family and most of their friends out of millions of dollars. She had escaped to the U.S. in the hopes of putting her past behind her, while still trying to redeem herself with her family.
Shapiro writes The Collector's Apprentice as an amalgam of historical fiction and mystery with a hint of chick lit thrown in. Mostly because the man who scammed Vivienne is a man she can't forget. She wants revenge on him, but is also in his thrall. He, on the other hand, has fond memories of her as he continues to run his Ponzi schemes across Europe and in the U.S. So much so that he follows her and upon learning of her relationship with the art collector, moves in closer to see how this can work to his advantage.
All of this is in the 1920s, a key time in history for art and Americans with more money than they knew what to do with. Why not buy art? Lots of it. Shapiro sets much of the novel in Paris, allowing Vivienne to interact with artistic and literary icons like Matisse and Gertrude Stein.  It is also the era for a serious game of cat and mouse—such limited communications between continents and no quick way to research someone. Shapiro works this to her advantage as her characters dodge each other back and forth between Europe and America. If you love art fiction, but need it to be literary as well, then the novel might not be for you. But if you want an easy read of a novel—the kind of thing you pick up, tear through, and enjoy without thinking too much—then  The Collector's Apprentice is a solid fall addition.
Related Posts