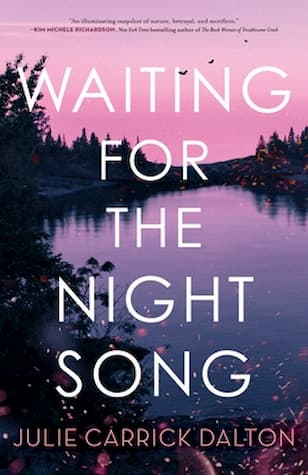 We first meet Cadence 'Cadie' Kessler as she's illegally harvesting mountain pine beetles off a tree in the New Hampshire forest. A researcher, she needs proof that the beetles have arrived to their area, threatening the death of trees and the heightened likelihood of rampant forest fires. But within pages, mutilating a tree on public lands is the least of her concerns. The biggest secret of her life is about to ignite when a childhood friend texts her that a body's been found. And just like that, Waiting for The Night Song binds an unlikely pair, murder and climate change, into one novel.
Cadie and Daniela haven't spoken in twenty-five years, after a perfect summer of adventure, a mysterious boy, and books exploded into murder and a cover-up. Neither of the girls were involved, but they know the killer, and one of them was involved in burying the body. Even more problematic is that the local police officer investigating the crime is Garrett, the boy Cadie fell for all those years ago. That's a lot of drama frontloaded into a story, but author Dalton tries to temper the impact by alternating the events of the summer with the scientific aspects of Cadence's environmental battle. For the most part, it works, but as the drama rises over both situations with more secrets exposed it gets a bit frantic. One or the other of these plots would have been a better choice.
My attitude towards the novel is compounded by something that is neither the fault of the author or the story. Whoever decided on the title and the book's cover didn't do them any favors. Both are simply too close to another coming-of-age, environmental, murder mystery novel. One that is highly acclaimed—Where the Crawdads Sing. If you've never read the latter then Waiting for the Night Song stands on its own. If you have read Crawdads then extraordinary pressure is placed on Night Song to achieve the same literary effect. Pressure I found it could not live up to. It's a good book from a debut author I'll read again, but it never exerts the same grip and intensity. It was, at the same time, too-much and not-enough.
This post contains affiliate links which means if you click on a link and make a purchase, I get a small commission (at no cost to you).
*I received a free copy of this book from Forge Books in exchange for an honest review.*
Related Posts