The Winter People
by
Jennifer McMahon
Publication date:
February 11, 2014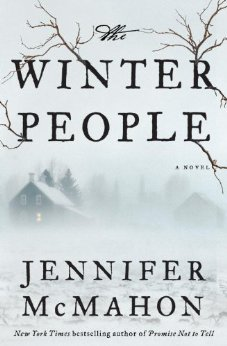 Little girls are all sugar and spice and everything nice. So what does it mean when they see things other people can't? And talk to their dolls with a secret language? In Jennifer McMahon's new novel, The Winter People, it means a whole lot of creepy is coming on. The novel opens with nine-year-old Sara seeing a friend running through the forest near her home in West Hall, Vermont. The only problem? The friend has been dead for two weeks. She's what Sara's Auntie calls a sleeper. A dead person who has been called back by a grieving loved one, using an old spell. Auntie has this power and promises to share it with Sara but not until she is older. When Sara is a mother and loses her only child, her beloved daughter—is it time? Is her grief so great she'll interfere with the laws of God and nature? And what of that other vital human emotion—love? As The Winter People moves from the early 1900s to present day the insidious power of love is felt: too much love, love spurned, love angered. McMahon sifts through the layers of love and how, even when it is devoted, it can bring forth evil.
Present day West Hall is more boring than scary for most of its occupants, especially those that live in Sara Shea's old house. To Ruthie, it is the same prison teenagers around the world call home. Her mother is a hippie who won't even allow a computer in the house for fear of giving The Man their data and her little sister Fawn is an odd creature who carries around a doll with whom she holds long whispered conversations. Ruthie has one goal, get out of West Hall. In contrast, there is Katherine, whose life has been one tragedy after another. First she and her husband, Gary, lost their beloved son to leukemia. Then, just as they were rebuilding their life together, Gary is killed on a road near West Hall. In trying to assuage her grief Katherine decides to give up her empty life in Boston and move to West Hall to work on her art and try and find answers to her husband's death.
In a manner almost as bewitching as the land around West Hall, McMahon weaves a spell upon the reader. There is not just one thing to fear in The Winter People, there are many. The past, the present, a forbidding configuration of rocks, a mother lost, an unusual, carved ring; a husband dead, a house rife with cubbies and secret closets…the mysteries pile up like the drifts of snow that cover the land. I was born in the area of Vermont described by McMahon and my parents lived there for much of their lives so, from many Christmas vacations, I know this snow and the eerie winds that blanket these towns. There is not much sunshine to be had during these months, making even the most innocuous trees and rocks appear strange and forbidding. That McMahon can evoke this atmosphere so clearly with her descriptive prowess means The Winter People took me back to those woods with the never-ending snow and created a good old-fashioned circle-the-fire ghost story. You'll shiver but it won't be from the cold.
p.s. I had the chance to meet with Jennifer McMahon at a dinner last week. We had great fun talking about winters in Vermont and how far a good ghost story can go to relive the boredom of being stuck inside. She's thought about moving to a warmer climate but McMahon wonders if the long snowy months are what keep her writing and that maybe if the outdoors was more enticing she might not get as much done.
Related Posts