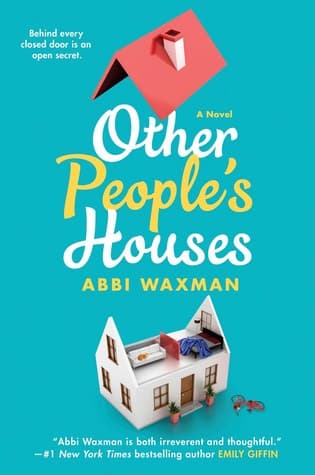 After a July of aggressively dark reading I gave myself some mental respite by starting August with two light backlist novels. I reviewed The Bestseller on Friday and today I'm happy to start the week with Other People's Houses—a contemporary look at family life, marriage, and friendship in one L.A. neighborhood. Frances, is the novel's anchor and its every-mom. She takes all the children to school every day, is always available for last minute errands, or girl talk. Until the day she walks into Anne and Charlie's house to retrieve a school item and finds Anne having sex with someone who is not Charlie.
In the same way city planners work, author Abbi Waxman carefully lays out the neighborhood of Other People's Houses. There's Frances, her husband Michael and their 3 children; Frances's cousin Iris, her wife Sara, and their son; Anne, Charlie and their two small children; and Billy and his little boy. Each have their own issues—Sara is a famous actress who's still in the closet and Billy's wife has been on an unexplained 'business trip' for an awfully long time. Now, Frances has to navigate her way through the minefield of Anne's affair. Keep it a secret? Tell her cousin? Anne's husband? Her husband? More importantly, she realizes she hasn't had sex with her husband for months. Would he cheat?
These are not earth-shattering issues. They're solidly middle-class concerns, but still relatable to anyone who's ever been married, had children, worked, been a child, clashed with a partner, been a caregiver. On the most basic level who can't understand Frances wearing the same clothes day in day out?
Look, if they hadn't wanted to be worn a second day they would have run away, but instead they just lay there overnight, asking for it.
But while Frances cheerfully wrangles marital, ethical, and parenting issues neither she nor any character in the novel is a caricature. There's no glibness to Waxman's writing just a lot of warmth, exhaustion, humor, and messy humanity. All coming together to make Other People's Houses the kind of exuberant reading that makes me smile.
This post contains affiliate links which means if you click on a link and make a purchase of any kind, I get a small commission (at no cost to you).
Related Posts