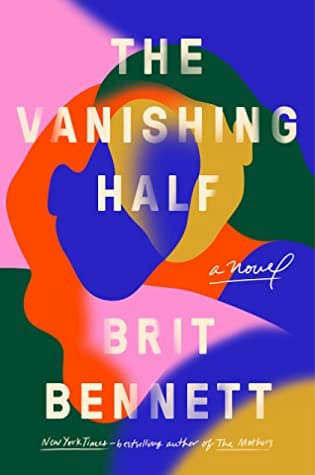 Where to begin with Brit Bennett's new novel The Vanishing Half? Ostensibly it's the story of identical twins Stella and Desiree who grow up in Mallard, a small, poor community in the Deep South, comprised solely of light-skinned black people. But given what's happening in America right now reviewing a book about race feels fraught, even when it's fiction. As a white woman I have no experience of how the color of my skin could affect my life, but within The Vanishing Half, even within the black community, color is the standard upon which everyone is judged. It is the crux of this riveting novel about racial and personal identity and the price paid to fit in.
When they are 16 Stella and Desiree run away from Mallard to find better lives in New Orleans. Once there the studious Stella takes the first steps towards denying her race and passing in the world of whites. She goes to work for a white man who accepts her as white. He later marries her, leading her into a world of affluence and comfort that she fights to maintain by vehemently turning against people of color. To do this, she leaves Desiree behind. In losing Stella, the adventurous Desiree loses something of herself. She falls in love with a dark-skinned man, despite warnings from her mother
A dark man would trample her beauty. He'd love it at first but like anything he desired and could never attain, he would soon grow to resent it.
The words are a prophecy and 14 years after leaving she returns to Mallard, the town she hated, with a daughter so dark she is described as "blueblack". They settle, Desiree becoming a waitress and Jude trying to fit in at school, where prejudice against her skin color leaves her an outcast. She turns to running, but not the way her mother did. She runs track and earns a scholarship that gets her out of Mallard and to Los Angeles where even though she meets people as dark as she is, she can't shake the belief in her ugliness. Until she meets Reese, an Arkansas boy whose need to fit in is greater than her own.
The complexities in The Vanishing Half are as varied as the skin tones of its characters. Bennett delves into everything from big picture societal pressures all the way down to the intimacies of family. She captures the emotional nuances of interpersonal relationships in a way that is compelling and thought provoking. My only qualm with the novel was the addition of a subplot I felt was unnecessary. Desiree and Stella's stories and those of their families are more than enough. Through them we see how, even as the circles of life expand, the net of the past still tightens.
Want to read Brit Bennett but can't get a copy of The Vanishing Half?  Try her debut, The Mothers, also a strong novel about black women's lives.
This post contains affiliate links which means if you click on a link and make a purchase, I get a small commission (at no cost to you).
Related Posts