A Window Opens
by
Elisabeth Egan
Published by
Simon & Schuster
Publication date:
August 25th 2015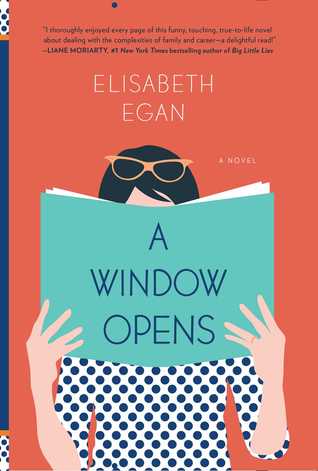 It seems that I stumbled into a payload of modern American life fiction. Two weeks ago I reviewed Days of Awe and now I'm back with A Window Opens by Elisabeth Egan, a female centric novel that may seem as if it is weighted with an overload of heavy events but it's not. What it is is real, messy, complicated, and confusing with new jobs, shifting marital responsibilities, kids growing up, and parents getting sick. For the main character, Alice, it's life and for the reader there is moment after moment of recognition—we've all been there and if we had the skill to write with such insight and dry humor we would, but for now, Egan says it far better than we could.
Alice has what seems to be the perfect life—she's a part-time books editor at a woman's magazine, her three children are now all in school and her husband is up to be promoted at his law firm. And then, as they do in life, things change. Nicholas not only doesn't get his promotion but he quits to start his own practice, a move that means Alice will need a fulltime job. Unfortunately, more hours are not possible at the magazine so it is a dream come true when she is offered a job as a content manager for Scroll, a huge online company that wants to redefine brick and mortar bookstores as luxury hideaways for the reader. Everyone at the company is young and hip leaving her a bit out of her element at first, having gotten married and having her first child by the time she was 26.
The young Brooklyn hipsters were an impressive bunch. They answered emails after midnight while tending their chickens and building lamps from spare parts salvaged at flea markets. They baked artisanal macarons and wove their own reusable coffee filters and trained for weekend mud runs upstate.
It is this kind of humor, sharp and a little snarky that runs through A Window Opens and makes it so wonderfully appealing. At the same time Egan uses this humor in softer ways to deal with personal and professional generational differences. There is Alice's father, who embraces technology to stay in touch but also thinks an immediate reply is necessary and will continue to text until he gets one, or her young boss who thinks an Edible Arrangement is appropriate for condolences.
Egan writes with strength throughout A Window Opens and much of the novel hits home. It is only as Alice enters the home stretch of her dilemma about her job at Scroll that the novel falters. I wanted the focus to stay on the battle between corporate-online-giant-versus-bookstores but Egan veers into the more touchy feely territory of motherhood. An admirable topic to be sure and one that makes for good fiction as well but in the larger context of the story it left me detached. And yet, I can't say disappointed because Egan's writing is so delicious. I can only compare my feelings about A Window Opens to a relationship. We met, I fell madly in love, but as the end approached I realized we were simply too different and so we parted friends. Friends who enjoyed each other's company but without a deep connection.
Related Posts