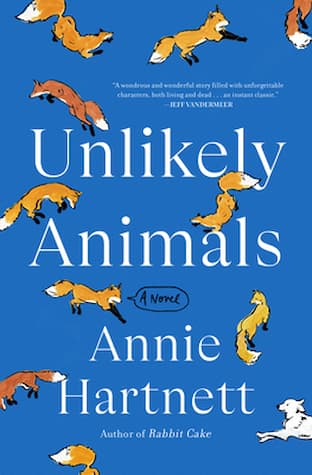 A daughter who's a natural healer, a father who's experiencing hallucinations from whatever inside his brain is killing him, a missing woman, and a small New Hampshire town with a cemetery filled with a vocal community of dead people are the core for Annie Harnett's new novel, Unlikely Animals. Despite the seriousness of the subjects this is a funny funny novel. Really.
From birth Emma's touch has been said to heal people of various ailments. This fed into her parents' belief that she should become a doctor so she tried. Now she's heading home from college, ostensibly because her father is sick, but really because things have not gone as planned. And she hasn't been honest with anyone. Her mother is trying to deal with her father and his increasingly problematic behavior and her brother who's come out of another stint in rehab, but seems unable to restart his life. Emma arrives home only to find that her best friend from high school has disappeared and no one, including the police seems interested in finding her. Only Emma's father thinks her disappearance is not drug related, but no one is taking him seriously anymore as he sees animals where there are none. And some of them talk.
There is a lot going on in Unlikely Animals which is often a sticking point in my enjoyment of a novel. Thankfully, Hartnett writes with such off-the-cuff, fresh humor that the snowballing events feel inevitable, not forced. Until, that is, the last 20% of the novel. At that point, it feels as if she's lost control and/or been told to wrap things up neatly no matter how far-fetched. This led to silly resolutions for some of the novel's biggest storylines and left me frustrated and a bit sad. I felt the characters deserved a more dignified end—or more ambiguity for the complex situations. As breezy summer reading Unlikely Animals is clever and enjoyable, just be ready for a manic wrap-up.
This post contains affiliate links which means if you click on a link and make a purchase of any kind, I get a small commission (at no cost to you).
*I received a free copy of this book from Ballantine Books in exchange for an honest review.*
Related Posts