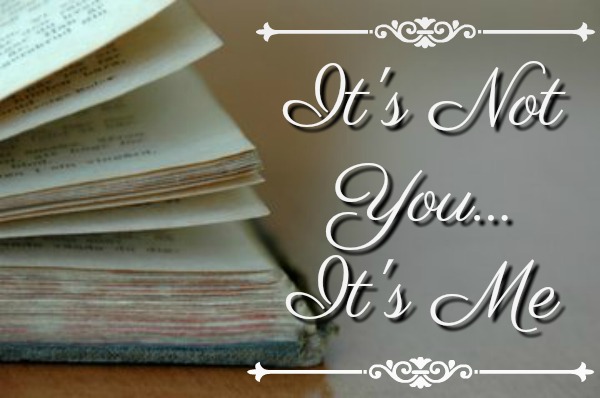 I haven't had a great year of reading (until recently), but generally it felt pretty clear that it was the books not working, not me. Except for these two recent reads, which is why they're It's Not You, It's Me books. In both cases, the writing and story were good, but they were missing whatever indefinable element I need to keep me invested.
No One Is Coming to Save Us by Stephanie Powell Watts
Published by Ecco
Publication date: April 4th 2017


Amazon
Given the title, it is no surprise that No One is Coming to Save Us, takes place under a shroud of sadness. There is not a single happy or even contented character in the novel. Which is not say there should be. In this small African American community there simply isn't much to celebrate.  Ava wants a baby, but has yet to carry one to full term. Her husband, Henry, works in a factory four days a week with no hope of fulltime. Her mother, Sylvia, is getting ready to retire from her job as a social services administrator. Her father, Don, has taken up with a woman younger than Ava. When JJ, a high school friend of Ava's, returns and starts building a large home it seems as things might get shaken up in their community, but is it for better or worse?
Set in the small town of Pinewood, North Carolina, prosperity left at the same as all the furniture manufacturing plants and nothing has moved in to replace it. Author Stephanie Powell Watts conveys this feeling throughout No One is Coming to Save Us with characters who are working hard, but still not able to get ahead. This could have had a greater impact, but Watts uses so many narrators that the story feels jumpy and without cohesion. I was never able to get my emotional hooks into any one character and so was left uninterested in the overall story.
Rabbit Cake by Annie Hartnett
Published by Tin House Books
Publication date: March 7th 2017


Amazon
Quirky. Odd. Two words that almost always lead me to love a book. Annie Hartnett's Rabbit Cake, has got both in spades. Beginning with a 10-year-old girl named Elvis. Who has a mother who sleep-swims and an older sister, Lizzie, who inherited the trait and sleepwalks. Sadly, when the novel begins, her mother has drowned and the family is mired in grief. What follows is how they muddle through it.
Elvis is intrepid, determined, and smart. She believes in getting answers whether it's about her mother's death or anything to do with animals—a subject she's so passionate about she starts volunteering at a local zoo. At the same time, she's trying to keep a grip on her father and sister as their grief takes more unusual and less understandable paths. Lizzie's sleepwalking spirals into breaking into neighbor's homes, walking on the roof, and most often, baking, cooking, and eating prodigious quantities of food. Her father wears her mother's lipstick and bathrobe around the house and abdicates all adult responsibilities. If it sounds like a lot for a 10-year-old, it is.
Rabbit Cake has an underlying dry sense of humor that manifests itself in all its characters and, largely, keeps the novel from going too far off the rails. But even with humor and sympathy, for how individuals process grief, a point comes when the eccentricity moves from something that engages to something that feels more observational. I'm watching the characters, but I don't feel connected to any of them. And without a connection, it's a short hop to finding fault. Which is, to say, a case of It's Not You, It's Me.
Related Posts