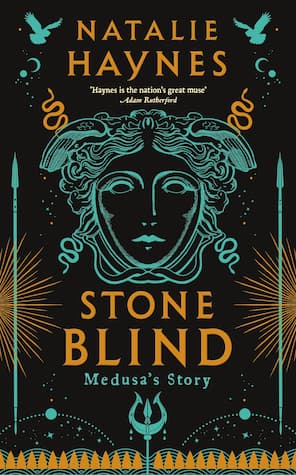 How wonderful to start the week with a book I loved so much I'm ready to read it again. Stone Blind by Natalie Haynes is her latest foray into the retelling of famous Greek myths from a female perspective. In this case it is the fearsome Medusa, known as one of the most terrifying monsters in the ancient Greek world. One look from her turned any living object into stone. In the original, she is killed by the clever mortal, Perseus, who rids the world of this scourge to save his mother from being married to a violent king. So noble, until Haynes peels away the gilded layers of this complex tale.
And the monster? Who is she? She is what happens when someone cannot be saved.

This particular monster is assaulted, abused and vilified.

And yet, as the story is always told, she is the one you should fear. She is the monster.

We'll see about that.
The traditional basics of the myth: Medusa is the only mortal Gorgon. She lives with her two older sisters, mammoth winged creatures with tusks, claws, and snakes for hair. As a human her pretty looks come to the attention of Poseidon, who rapes her. If you didn't already know, the male Greek gods are notoriously horny, with rape as one of their favorite past-times. Devastated, she returns home and hides in the family's caves. The rape occurs in the goddess Athene's temple so in anger she turns the girl into a monster like her sisters, except with killer eyes. A monster Perseus slays to save his mother.
You don't need a degree in Greek mythology to read Stone Blind (or any of Haynes' novels). She writes mythology from a contemporary perspective. While the characters exist in a fantasy world, they think, act, and speak no differently than those in regular life. Even with their immortality and powers, gods and goddesses exhibit distinctly human traits. Poseidon, the brother of Zeus, sulks because the seas don't get the same attention as the land and Hera, Zeus' wife, is in an understandable but permanent state of rage because her husband impregnates anything that moves. Some, like Athene, are harder to parse, who, despite being her father's favorite child, and being known as the goddess of wisdom, largely appears to be a spoiled, vindictive child. Also, a rampant misogynist. She punishes Medusa, the victim, not Poseidon, the rapist. She goes even further by repeatedly helping Perseus in his quest to kill Medusa.
Although Stone Blind is expansive Haynes is a Scheherazade, keeping the reader spellbound as she fleshes out many of the Greek myths, linking each to the ultimate outcome of Perseus and Medusa. For such an intricate and multi-layered cloth, individual threads are never lost, as chapters are short and defined by character. Even for those uninterested in mythology this is a not-to-be-missed literary spectacle glittering with details, razor sharp dialogue, and a sly, mocking wit. All woven together to make Stone Blind the kind of shimmering, smart reading I live for.
I see you. I see all those who men call monsters.
Want more from Natalie Haynes? Try her retelling of the Trojan War, A Thousand Ships. More outstanding reading.
This post contains affiliate links which means if you click on a link and make a purchase, I get a small commission (at no cost to you).
Related Posts