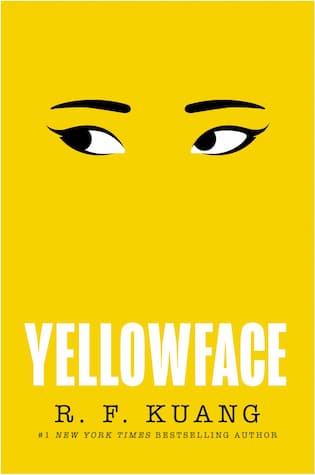 I've contorted the truth into such ways that I can, in fact, make peace with it.
THIS. BOOK. Yikes. Ostensibly, Yellowface is about June Hayward, an aspiring writer who has quietly seethed as her friend Athena gets the success and accolades June craves. When Athena dies in a tragic accident June uses it as an opportunity to take her friend's current manuscript for herself. What follows is an epic mashup of social commentary, thriller, mystery, and a searing indictment of much of American culture right now.
The novel June steals is about the lives of Chinese laborers sent to Europe during WWI, a subject she knows nothing about, but which is familiar to Athena, due to her Chinese heritage. June completes the manuscript after adding her own research, then submits it to her agent. A bidding war ensues and a prestigious publisher purchases it, launching June into the spotlight she's dreamt of. Only she's not June anymore. In an effort to obscure her ethnicity the publisher decides June should use a version of the birth name her hippie mother gave her. She's Juniper Song now, an ambiguous but Asian-leaning name that should pre-emptively silence any questions advance readers and critics might have about how a white woman from Philadelphia might have come up with a novel on a historical topic so obscure and far removed from anything she's ever written or explored.
But June isn't bothered. Even as accusations of plagiarism from reviewers, industry insiders, and Athena's former boyfriend appear in social media she digs in her heels. It is her work and as the pages pass she doubles down on her ownership even as the pressure for her next novel builds and she has no ideas. She finds herself unable to look away from Twitter, where she's painted as either a rising star or a thief. Her obsession and Yellowface itself shape-shift into something more insidious, ala Edgar Allen Poe's The Telltale Heart, as despite her best efforts, the truth seems determined to surface.
For anyone who enjoys dark satire, Yellowface is an entertaining and trenchant behind-the-scenes look at some of the problems endemic in publishing.  As someone who writes, even if it's just reviews of other books, this novel hits closer to home, making me queasy from the first page. I live in fear of accidentally or subconsciously committing plagiarism or of having my own words pilfered, so to read of a writer brazenly stealing another writer's words is deeply unsettling.
Author R.F. Kuang has a point to make in Yellowface and she wastes no words or space in making it. This is not just plagiarism, but much like Bernard Slocumb's Symphony of Secrets, is about appropriation—mediocre white creators stealing the work of people of color and slowly, but surely coming to believe they are owed the success and praise that finds them.
But Kuang doesn't stop there. Yellowface is a novel of systemic toxicity. Social media and the publishing industry and everything wrong with both are on full display. Being woke versus cancel culture versus conservatism versus the politization of well, everything, the list goes on and on. Kuang's writing is electrifying and strong, her points clearly delineated. The novel is engrossing and holds the reader captive until the very end, but at what cost? There is much to be explored on this topic, but it's exhausting. Every single character in the story is morally repugnant leaving no room to breathe.
It feels odd to rate a novel that repelled me 5 stars, but Yellowface is an achievement that earns it. R.F. Kuang not only exposes the toxicity in publishing and social media, but revels in it, rolling around in the mud that was once the truth, but is now whatever you want the truth to be. Dark, dangerous territory and addictive reading.
This post contains affiliate links which means if you click on a link and make a purchase, I get a small commission (at no cost to you).
Related Posts