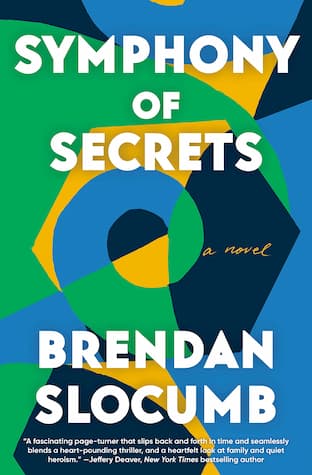 When Bern Hendricks is asked to authenticate a piece of music believed to written by his hero, famed 20th century composer, Frederic Delaney, it's the chance of a lifetime. A scholar of his works and a new professor, it will be a triumph for Hendricks, both personally and professionally. But when he discovers documentation about a woman never acknowledged anywhere in Delaney's life it threatens his entire belief system and his career. Author Bernard Slocumb brings together the two disparate worlds of classical music and technology in his a slow-burn novel, Symphony of Secrets.
The newly discovered work turns out to be the last in a series of operas honoring the spirit of the Olympics that was only played once before disappearing. An ode to Delaney's appreciation for Black culture it was an extraordinary amalgam of various Black musical styles. Now in an effort to capitalize on its discovery, the Delaney family's foundation wants to put on a performance of the piece as quickly as possible. Bern is hired to transcribe the piece from Delaney's notes, notations, and the aged pages. To do so, he enlists the help of a tech savvy friend, Eboni to pore through the minutiae of Delaney's life.
As Bern and Eboni scramble to render the score functional for musicians they discover a trail of clues about the music's origins. The far-reaching capabilities of digitization unearth information about a Black woman named Josephine Reed with whom Delaney was involved and who may have been working with him in secret. The deeper they dig, the worse it gets.
The star of Symphony of Secrets is Josephine Reed. She's neurodivergent and also has synesthesia—a real condition in which the senses are wired differently. In her case, she hears colors while her mind converts every sound to musical notes. A frightening way to experience the world in the 1920s for a poor, uneducated Black woman. Slocumb's portrayal of Josephine's mind is the best part of the novel. As a classical musician himself, his passion for music shines though in his descriptions of Josephine's perceptions of the world around her.
The musical technicalities and intricacies of the novel are riveting. These details are balanced by Symphony of Secret's increasing momentum, with events moving quickly in the past and present. The sour notes in the novel are struck by Slocumb's writing which is clunky when not about music. This exacerbates a heavy-handedness with some of the characters and plot points. His debut, The Violin Conspiracy, had the same feel, but I hoped his writing had matured. In a recent interview on Sarah's Book Shelves Live, Slocumb talked about how quickly he's able to write a new book. I'm here for any fresh takes on classical music, but would prefer a greater focus on quality over quantity.
Style aside, The Symphony of Secrets succeeds as fast, light reading that works not only as a mystery, but also highlights the increasingly relevant issue of the historical appropriation by whites of the cultural accomplishments of people of color.
This post contains affiliate links which means if you click on a link and make a purchase of any kind, I get a small commission (at no cost to you).
*I received a free copy of this book from Anchor Books in exchange for an honest review.*
Related Posts