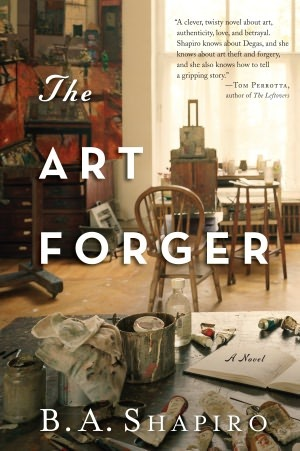 The 1990 theft of thirteen painting from the Gardner museum in Boston is still one of the greatest unsolved mysteries in the art world. Despite the seeming ineptitude of the two thieves, a massive manhunt and a $5 million reward, the works have never been recovered.
B.A. Shapiro uses this theft as the background for her new book The Art Forger. Claire Roth is a talented artist who made some mistakes along the way and is now reduced to copying masterpieces for sale at an online reproduction company. Namely, she tried to help her lover, an older, established artist, by painting a work for him when he was too depressed and blocked to paint. The subsequent work was chosen by MoMA for display and when her lover refused to give her any credit, Claire rebelled. The situation devolved into a horrible debacle destroying Claire's reputation and leaves her unable to work in the art world as anything other than a copyist, or in some people's minds, a forger.
Three years after this incident, Claire is approached by a famous Boston art dealer, Aiden Markel, with an intriguing proposition. He has a work by Degas, one of the ones stolen from the Gardner museum. He gives her no information about the seller or how he happens to be in possession of the stolen painting but asks her to create a forgery of it, telling her that he is going to give her copy to the buyer and return the original to the Gardner. He offers her a large sum of money to do this, and, more importantly, a show of her own work at his gallery. Markel deftly deflects Claire's concerns, claiming that there are so many layers between the seller and buyer that neither of them is at any risk of being caught. Furthermore, he claims that if, in the unlikely event things went wrong, her defense is straightforward: she is a copyist who believed she was only copying a forgery of the Degas and had no idea it was real. Markel's persuasion, the promise of a real art show of her work, and the payment of $50,000 for the job convince Claire, beginning what is a thriller, filled with surprises and subtle deceit.
Shapiro does a skillful job combining the complexity and intricacy of producing a work of art with the twists and turns of the human heart. Claire and Markel become involved and what was a simple job is now much more.
I drop my head to my hands. He's lying to me. I'm lying to him. Our fates are inextricably entwined. And being together doubles our vulnerability. 
For the reader, both of these processes are fascinating. The delicacy and expertise required to reproduce a work of art that will pass the inspection of experts and modern day technology is staggering. Following Claire through the various stages of reproducing the work, including the minutiae of photographing and magnifying the portions of the Degas to ensure that her brush strokes exactly match those in the painting is fascinating. If you've ever admired a famous work of art, The Art Forger will take your appreciation to a new level. In the same way, Shapiro writes the book in the first person, from Claire's perspective, creating shadings and layers much like a painting and just as difficult to detect. One can never be certain what is truth and what is rationalization or manipulation on Claire's part. There is a level of ambiguity about her motivation and actions that is sustained until the last page.
Whether you were a Fine Arts major or think the Impressionists are a group of comedians who imitate people, The Art Forger will draw you in and keep you reading. The book explores the world of art and its creation, the boundaries of love and deception, and what people will do to get what they want. It's the real thing.
This post contains affiliate links which means if you click on a link and make a purchase, I get a small commission (at no cost to you).
*I received a free copy of this book from Custom House in exchange for an honest review.*
Related Posts