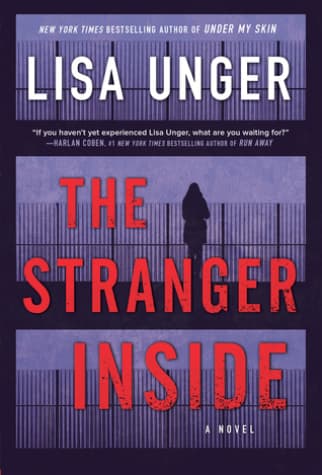 When she was 13 Laraine made a decision that changed not only her life but that of her two best friends. Follow her mother's advice and take the long way to Hank's house or cut through the woods with her best friend Tina? She chooses the woods and Tina ended up dead. Hank tries to save them from their attacker and his ferocious German Shepherd and he's dragged off as well. Laraine is left behind with a fractured jaw and broken ribs.  When she's found 12 hours later she's in shock and unable to identify the man. Lisa Unger's new novel, The Stranger Inside, begins when Laraine, who now goes by Rain, is forced to deal with her past when a new series of crimes call to mind what happened to her and her friends.
Rain and Hank have moved on to relatively normal lives. Rain is married with a new baby, taking a break from her career as an investigative journalist, and Hank is a highly respected psychologist treating children who have suffered severe trauma. The man who attacked them and killed Tina is long dead—killed in his home. But when a local man who went free after the brutal murder of his wife and unborn child is found dead the style of the act is similar. Law enforcement and Rain start connecting the dots—someone is going after killers who get away with their crimes and executing them in the same way they killed their victims. When the FBI is called in they turn to Hank to help profile the killer, but will the strain of revisiting his abduction and torture be too much?
Unger keeps the flame building under The Stranger Inside by slowly filling in the past, layering in small details, and slyly inserting simple sentences like this
 It reminds me. Sometimes I forget. I'm not entirely well.
She excels at the psychological aspects of thrillers, exploring the not just the minds of the criminals, but by getting into those of all her characters. For Rain, the obsession to get a story first pulls against the responsibility of having a new baby. Hank uses his own past to help his patients, but has not really come to terms with his feelings about Rain and their shared past. This blend of personal relationships, domestic life, and family histories all blends in a way that distracts the reader with the familiar until the hammer drops. The Stranger Inside is not as shocking as my favorite Unger novel, In the Blood, but it is a great fall page-turner.
Related Posts