Happy Monday, everyone! I usually wait until the last days of December to write about my favorite books of the year but as I'm free-range reading this month I'm not reading any new releases. In short, I'm ready to call it a year!
 2014 was an interesting year in reading for me. It started off so strong, with books where my biggest problem was deciding '5 stars or 4 stars' because they were so great, but then trailed off (way off) in the second half of the year. Given that September and October are two of the biggest release months of the year this should not be the norm—and maybe it wasn't for everyone else—just  me.
On the positive side, I'm tickled to report that humorous fiction not only made it into my favorite ten books of the year but that two of those novels warranted five stars. In a year that was personally quite trying to find authors who write intelligent, sharp AND funny fiction these novels were a wonderful surprise.
And because culling books to find favorites is so awfully hard, these ten awesome books are from returning authors. I'll have a list of my favorite debut authors later in the month.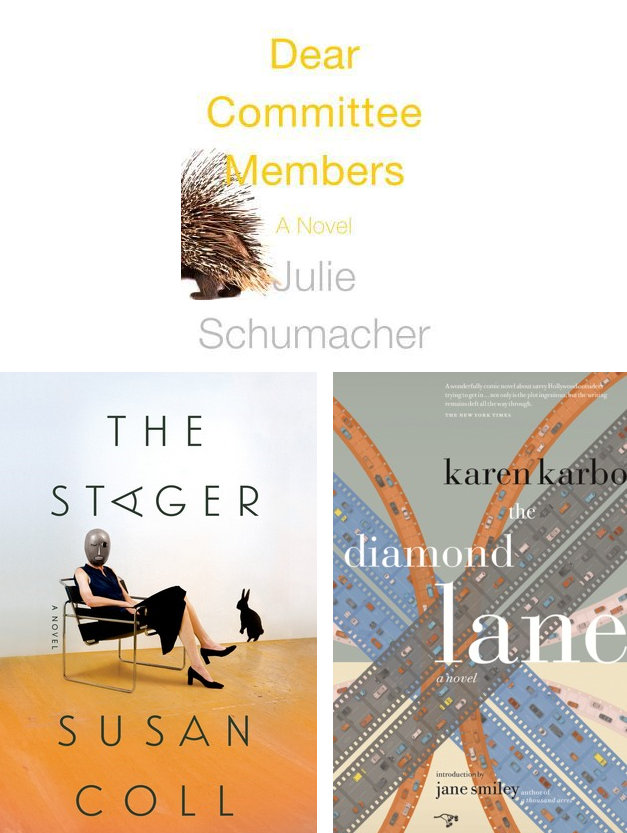 The Diamond Lane: 5 stars of whip smart, snarky satire about the tarnished tawdriness of Hollywood. Loved this book from start to finish. Review
Dear Committee Members: What's better than a pedantic but oh-so-sly professor pleading the case of students, colleagues, and even strangers in letters of recommendation? Another 5 star favorite. Review
The Stager: My love of this sarcastic tale of real estate hell mixed with magic realism, addiction, and spoiled child syndrome may have to do with having seen one too many staged houses in the last year. Still hilarious reading even if you're tucked safely in your own home. Review
Mambo in Chinatown: Growing up Chinese American and trying to find yourself. 5 stars for Jean Kwok's beautiful, uplifting novel. Review
The Moor's Account: America long before it was America and through the eyes of a Moroccan slave. Review
Above the East China Sea: Past and present combine as two young women try and find their way back home. Review
Euphoria: Anthropologists and a love triangle? Yes. And it works powerfully. Review
How to Build a Girl: Not for everyone but this one hit me hard with all its filth and vibrancy. Review
Station Eleven: If you were going to read dystopian fiction this year, this was the one to read. So close to recent reality it will make you nervous. Review
Dept. of Speculation: A wisp of a novel that follows the circuitous path of love, marriage, children. A laugh and cry book. Review


You can also use this list as a Christmas shopping guide for the reader in your life. Each title links to Powell's where the books can be purchased online and free shipping is available.
Related Posts