For a lot of people, a book's page count is enough to make or break the decision on whether to read or not. Not for me—I'm one of those book freaks who loves a book that counts as strength training every time you lift and lower it. There's something about falling into a book and staying in that has always been appealing. It's why I don't read short stories very often—I finish one and am not ready to leave the characters or plot. So, when I saw That Artsy Reader Girl's Top Ten Tuesday meme was about long books I knew I needed to chime in (even though it's Friday).
Don't be put off by the post's title—there are only 3 books on this list that I would not recommend. The rest are so good, you won't care how many pages they are.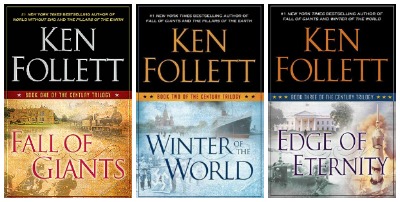 Of course I have to lead off with Ken Follett's The Century Trilogy! Follett is a master storyteller and in this trilogy he moves across the globe, through the 20th century—some of the most tumultuous times in history. Fall of Giants 968 pages, Winter of the World 940 pages, and Edge of Eternity 1098 pages. I promise you, time flies by in these books—literally and figuratively.
What's not to love about a novel that travels through time, multiple countries, is about the history of vampires and has a strong female protagonist who is a researcher?! The Historian (704 pages) is huddle-up, addictive reading at it's finest. If you're still not sold, consider this: I got my husband (who does not read) to read this novel and he was hooked. It may be my greatest accomplishment as a reviewer.
You really can't have a list of long books without Stephen King—one of the masters of complicated, bone chilling books that keep you glued to your seat. He is absurdly prolific (he's probably written a new novel in the time it took me to write this single post) so it can't be surprising that he lands as both a hit and a miss on my list.
The hit? 11/22/63 which clocked in at 843 pages. A time-traveling re-imagining of the Kennedy assassination. My review.
The miss? Under the Dome (link goes to Goodreads synopsis). An incredibly creepy premise, but at 1074 pages it never lived up to its promise. I finished it, but only by skimming.
I read and fell in love with Winter's Tale (768 pages) long before there was such a thing as book blogs. I read it again after 9/11 because it is such a fantastical love letter to NYC. Do not see the movie!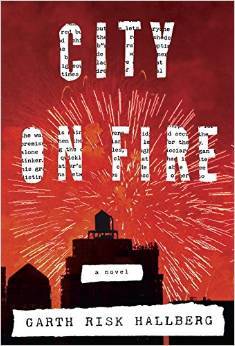 My next miss, City on Fire, may have been imagined as a love letter to NYC in the 1970s but it ended up being a hate read for me. At 911 pages it was a slog. My review.
Time for more great historical fiction. Alison Weir writes about British royal history. Her current series is about the wives of Henry VIII and it is wonderful. One book for each queen. I love them because she unravels the lies and labels attached by male historians to each and brings forth nuanced, real women.
Katherine of Aragon (602 pages), my review
Anne Boleyn (544 pages), my review
Jane Seymour (560 pages), my review
Sophie's Choice is one of my prime instances of the movie being as good as the book. Of course, with Meryl Streep it's hard to go wrong. This novel may be the first time I was completely blindsided by a twist and realized just what outstanding authors could do to a reader. One of the most heart wrenching WWII, Holocaust novels I've ever read.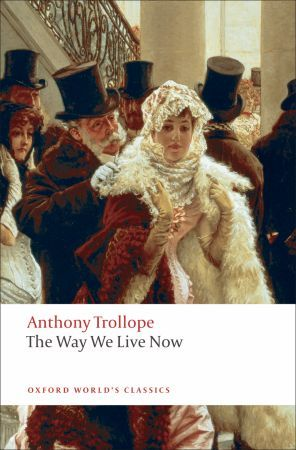 He may have been writing in the Victorian age, but Anthony Trollope's novels read like fabulous, modern day soap operas, complete with entitled children, corrupt politicians, scheming gold diggers, and more. The Way We Live Now is one of my favorites, even at 776 pages. My review
Trollope writes of society in a manner that makes it recognizable and readable today, but I can't say the same of Tolstoy. I hauled myself through War and Peace, but only by largely skipping the many, interminable chapters and pages about war. So, basically, Peace was not so bad, but at 1392 pages I can't recommend this one. And I know, I'm about to get lambasted by classicists, but I'm not backing down.
There you have it! Ten loooong books, seven of which you'll love and three you can use as doorstops. What long books do you recommend?
Related Posts