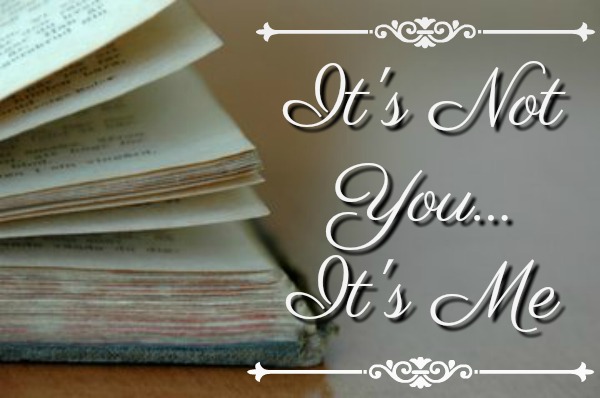 The "It's Not You, It's Me" phrase is more true this month than almost any other. My head space is so messed up by living in a construction zone with the ear-shattering noise, frequent questions, and now, mistakes being made on a renovation that is 20 days behind schedule means my attention span is shot to hell. The only place I'm finding mental peace these days is floating in a pool after a long swim.
It's fitting then, that the novels below are all well-written, they simply didn't work for me.
---
The Bookseller by Cynthia Swanson
Published by Harper
Publication date: March 3rd 2015

It's 1962 and Kitty Miller owns a bookshop with her friend Frieda. She is single but lives a life she finds fulfilling. Or so she thinks until she starts dreaming about herself with a different name in a different life. She is Katharyn Andersson, happily married and with two children. Kitty and her dream-self Katharyn are the protagonists in Cynthia Swanson's The Bookseller.
Swanson uses the dream device adeptly. As Kitty's life begins to change in ways that are not positive she longs for sleep when she can go back to a world that, while much more traditional than she ever thought she wanted, offers a sense of security. The Bookseller weaves this premise through the story and layers in the mystery of the gaps and inconsistencies between the two worlds. One of the greatest is that Kitty's lifelong friendship with Frieda no longer exists. As the Kitty/Katharyn tries to reconcile her lives the differences between the two become more obvious and painful.
There is a lot to recommend The Bookseller especially how carefully Swanson tracks the two worlds. The novel did not so much fall short for me but went a direction that left me a little sad. And that's all I have to say about that.
---
The Little Paris Bookshop
by
Nina George
,
Simon Pare
Published by
Crown
Publication date:
June 23rd 2015
The Little Paris Bookshop has all the components to make readers swoony: Paris, a bookstore, and lost love. Monsieur Perdu owns a barge on the Seine called the Literary Apothecary. He named it this because
I wanted to treat feelings that are not recognized as afflictions and are never diagnosed by doctors. All those little feelings and emotions no therapist is interested in, because they are apparently too minor and intangible. 
Instead of drugs, he is able to intuit the moods of his customers and then sells them books to suit those moods. Outwardly, he is a quiet, composed man but inside he has his own heartache yearns for a love he lost decades ago. When he discovers, via an unopened letter he finally reads, that his love may still be his, he embarks on his boat to find her. That he does so with a neurotic young author as a co-captain and no money, provisions, or directions takes what starts as a charming love story and mystery and turns it into a farce.
This may be what I think of as mood reading in that it could possibly appeal to the right person at the right time. The author's prose is often lovely and evocative, if a bit flowery. Perdu's plight is compelling but pages of his introspection started to wear on me and I had to jump ship.
---
The Gods of Tango by Carolina De Robertis
Published by Knopf
Publication date: July 7th 2015
DNF

Carolina De Robertis brings Buenos Aires in the early 1900s to life in all its raw, passionate chaos in The Gods of Tango. Leda is a young immigrant who arrives to meet her husband, only to be told he is dead. Left alone and almost penniless, Leda decides that rather than return to Italy she is going to make her way in this crowded, brutal environment. Unfortunately, job opportunities are limited for single women and the danger is high. Leda's passion is playing the violin so she cuts off all her hair, abandons her dresses, takes her husband's clothes and re-emerges into the city as a man.
The focus of The Gods of Tango is, wait for it…the tango, a dance known to Argentinians but foreign to the numerous new cultures arriving in Buenos Aires. It is this music that Leda wants to play. De Robertis' prose evokes its vibrancy and the variations of the music of tango culture and the times around it. What she didn't do was capture my attention—after Leda's choice to live as a man the plot lost its power and my interest. It may just have been the wrong novel at the wrong time, but I was able to put it down and not pick it up again.
Have you read any of these It's Not You, It's Me books? If so, please leave your thoughts!
Related Posts