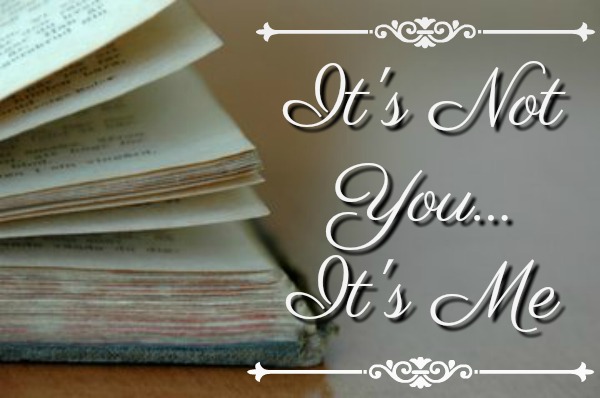 Happy summer, book lovers! I hope you're all getting to enjoy nice weather, sunshine, and, of course, some great reading. In an effort to help, I'm back with three books that left me thinking It's Not You, It's Me.
The Good Lieutenant
Publication date:
June 7th 2016
If Whitney Terrell's goal in his novel The Good Lieutenant is to mimic warfare, then he succeeds. The novel opens with the search for a missing soldier's body, in Iraq, with hostile locals, an exploding Jeep, interrogations and a tortured interpreter. No one's story matches up and the chaos, noise and confusion leaps off the page. By page 50 I was completely disoriented and wanted to yell, "Stop!" just to get some idea of what was going on.
The Good Lieutenant begins at the end—in a field in Iraq where Lieutenant Ellen Fowler and her platoon have gone to recover the body of one of their soldiers. Where everything goes wrong, very wrong, as things in Iraq seem to do. By the time the novel ends at the beginning of Fowler's journey to Iraq much has been clarified about how and why things went wrong, but Fowler still remains largely a mystery. In fact, all of the characters do. Terrell conveys the facts of the story, but without the motivations behind the actions—which may be a conscious choice to reflect what Army life is like, but did not work to draw me into the novel beyond the surface action.
---
Smoke Published by Doubleday
Publication date: May 24th 2016

Smoke takes places at an unspecified point in England's past (likely around the time of good old Victoria given her penchant for repression and appearances) and is about an inexplicable vapor that is used as class warfare to separate the lower classes who exude it when doing or even thinking wicked thoughts and the upper class who never do.
Author Dan Vyleta does a thorough job designing this elaborate tale, but I was unable to keep all the moving pieces and characters straight. The conspiracy to control the working class goes back to the 1600s when the Bible was rewritten to explain Smoke as the result of Eve's sin. These kinds of details are interesting, but weigh down the pace and structure. Although I finished the novel, it felt like as amorphous and difficult to hold onto as smoke itself. If you're a lover of historical fantasy fiction with an abundance of detail, grand conspiracies and multiple plots then Smoke might just what you need.
---
What We Become: A Novel Published by Atria Books
Publication date: June 7th 2016

Arturo Perez-Reverte's What We Become begins in an ocean liner in the 1920s, a lost time of elegance in society. His protagonist Max is a dancer on the ship and Perez-Reverte's prose slides and glides with the same languid tension as the tangos Max dances. Sadly, the next time we see Max he's working as a chauffeur in Italy. His years as a ballroom dancer and jewel thief are behind him, but the re-appearance of a lovely woman he was involved with twenty-nine years ago brings back his old desire for the game.
What We Become contains the allure of a time and place—oceanic travel, 1920s and 1930s Europe, the lives of the wealthy and careless, but at some point the novel's own weight grinds it to a halt. The tango, chess, and a heist involving political documents are all plots in this tangled web of a novel. Perez-Reverte does his best to keep the reader up to speed but by the time he introduces Mussolini's son-in-law in Nice on the eve of WWII I was getting lost. Max gets bogged down with too much baggage, not something even the most accomplished con man can carry.
Related Posts