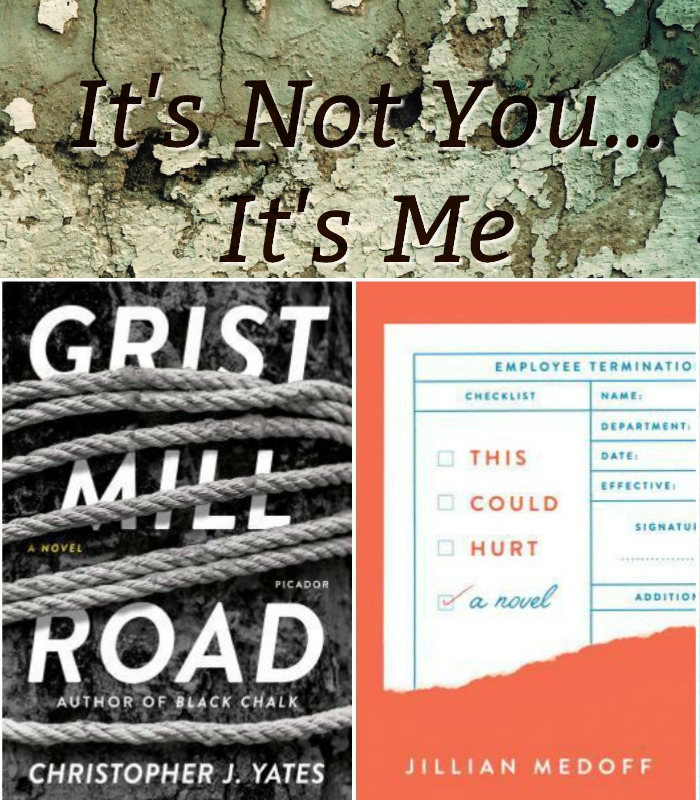 Grist Mill Road
by
Christopher J. Yates
Published by
Picador USA
Publication date:
January 9th 2018
Telling you that Christopher J. Yates's new novel, Grist Mill Road, is about a boy who ties up a girl and shoots her forty-nine times with a BB gun while his friend watches is not a spoiler, because Yates makes it the first page of the novel. It's simply his way of making sure he's got your attention. It is also not the crux of the novel. For that he has a dodgy narrator, unexplained motives, secrets, and twisted psychology, all in service to the path back to why it happened. The novel begins in 1982 when Patrick, Hannah, and Matthew are all a part of the terrible crime. From there it jumps to 2008 when Hannah and Patrick are married and Matthew has been out of everyone's life until, he's not.
Yates isn't new to the psychological thriller rodeo. His debut, Black Chalk, kept me guessing and flipping back through previous chapters to try and figure out the truth. In Grist Mill Road he lets each character narrate, but Matthew doesn't speak until Part III of the novel, at which point it's difficult to get invested in his story. Patrick is the character with the most to say but Yates's decision to use both the first person in some chapters but the third person in others only highlights how unreliable he is. That plus the fact that he's tried to kill himself three times, lost his job and is now stalking his former boss and has created spreadsheets tracking his sex life and his stalking activities means he's one big neon warning sign. Then there's the fact that he's married to Hannah. Hannah, who didn't die from Matthew's attack. This is the drama soup Yates is ladling out.
Despite what I've shared about Grist Mill Road I'm nowhere near spoiling the novel for potential readers. There is so much why to be discovered and Yates seems to revel in parsing out the details as slowly as possible. In doing so, he keeps the tension on a razor's edge, as does shifting the narrative from one character's point-of-view (and memory) to another. It all comes together for unstoppable reading. It isn't until the last quarter of the novel that he finally unleashes Matthew's story and it is weighty. Too much so for the delicate balance of tension, and the novel collapses. It may be that my tolerance has been stretched too far by reality these days, but I simply could not suspend belief enough to buy into the premise presented.
This Could Hurt
by
Jillian Medoff
Published by
Harper
Publication date:
January 9th 2018
This Could Hurt Jillian Medoff's new novel is about a small-ish marketing research firm, Ellery Group, in New York City in 2010 as it struggles to survive the Great Recession. Rosa is 64 and the head of HR. She's been at Ellery for 15 years and is the quintessential career woman who never had children but treats her employees as a substitute, managing with caring, tough love.  Her job is her life and her identity so when push comes to shove and downsizing is the only option she is torn between loyalty and necessity. Medoff adds to the drama with an unexpected issue that impacts Rosa and changes the dynamic for everyone at the company. If you were working at that time, this novel makes for unsettling reading.
Medoff fills This Could Hurt with characters of all stripes, from the frumpy middle manager who is stuck between wanting to commit to her ambition and wanting to get married, to a gay man who struggles to find balance with his colleagues. There is the Wharton grad who's using the company as a springboard to better things and the recruiter who has checked out on doing his job because he never wanted it in the first place. Each is floundering, both in their job and in their personal life and from among them a choice has to be made as to who stays and who goes.
As someone who did end up losing their job in 2010, Medoff does a great job with the characters and plot of This Could Hurt. They're all realistically flawed, even the indomitable Rosa, but not so much that it's impossible to care about them. Even as a husband gets closer to his work wife then he should, an ambitious man subtly sells out his boss, and a woman who hasn't been willing to fight to get ahead suddenly finds her career warrior, they stay relatable. It's almost like having x-ray vision into a workplace and finding out that there is so much going on beyond the suits and meetings. That's why when, towards the end the novel, Medoff slips into random disclosures and subplots, it's disappointing. I was already invested in Rosa, Leo, Lucy, and Rob so anything more distracted from their stories. In pushing the novel further away from real I was pushed away as well.
Related Posts