The first month of summer is wrapping up so before things get too far along I have a week's worth of great books to share. Each one makes for perfect summer reading!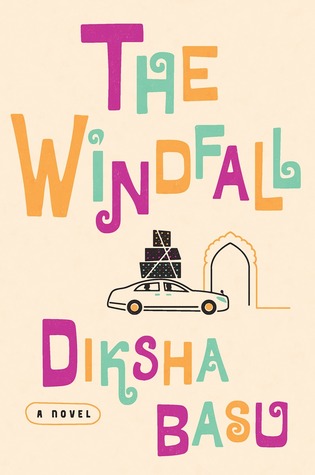 It is every entrepreneur's dream to have their creation sell for a boatload of money. For Mr. Jha the dream comes true when his website is bought for $20 million—the kind of money that changes lives. For Jha and his wife it means finally moving from the cramped apartment in Delhi they've lived in for twenty-five years to a beautiful new home in an upscale neighborhood. Their son Rupak is already attending a college in the U.S. to get his MBA so it feels as if all their hard work is paying off. Of course, nothing is that simple and in The Windfall, Diksha Basu plays a diverse cast of characters against the traditional norms of Indian society for a novel that transcends culture and resonates with humor and warmth.
Mr. and Mrs. Jha aren't the only two people impacted by the change in their fortunes. Rupak is having too much fun with his unlimited checking account and blonde American girlfriend to focus on getting his degree and even after he flunks out, his father doesn't seem to care. Closer to home the Jhas are dealing with two sets of neighbors—those they're leaving behind and those who will be next door. Mr. Jha is anxious to jettison his old neighbors and get started on outdoing the new neighbors, the Chopras. To this end, he shops compulsively, buying a Swarovski studded couch and contemplating putting in a pool, even though he doesn't swim. Finally, there is Reema, Mrs. Jha's best friend. A woman whose husband died while she was young, but who is still relegated to the rigid role of widow, meaning love and companionship are not considered appropriate.
It wasn't even a question of dashed dreams for her; she realized now that she simply had no more dreams.
Basu takes the expected trope of spendthrift, out-of-control wife and shifts it onto the husbands in The Windfall. Mr. Jha and Mr. Chopra go to ridiculous lengths to showcase their wealth, culminating in conversations that disparage their sons to inflate their own egos. The boys (young men in their twenties) are 'completely useless, but thankfully, I have enough money to support him forever.' The men are cringe-worthy in their desire to prove themselves as so wealthy no one in their family needs to work. But while Mr. Jha is buying everything he sees to proclaim his newfound status, it is Mrs. Jha who is the novel's ballast. She is not sure that moving from a crowded neighborhood where everyone knows and helps each other to one where each house has so much land you can't even see your neighbors is a good thing. She has no interest in trading in her traditional saris for clothing with designer labels. And once they've moved she is lonely in a fully staffed house with an isolated kitchen that she is not supposed to use.
Through her characters Basu weaves a tale that wonderfully defies genre. The moneyed aspects and social climbing feel like Kevin Kwan's Crazy Rich Asians novels, except that here the wealth is new and the striving to spend it turns sad. It's the Indian version of the Clampetts as they head to Beverley Hills with their oil money. The absurd lengths the characters go to to flaunt their wealth feels like satire, but the novel also remains grounded in the not-so-funny aspects of traditional Indian culture as the old ways rub up against the new ways. Throughout it all, Basu strikes the perfect balance between humor and tenderness, blending compassion with comedy and making The Windfall delightfully fresh reading.
Related Posts