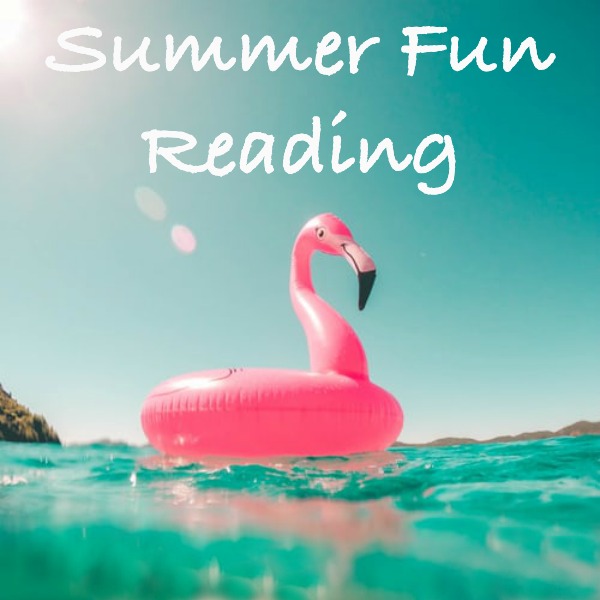 We're in the midst of a hot summer week here in Michigan so in my head I'm lounging in the middle of this flamingo floatie. Given the heat (and humidity!) I'm going to keep it light and cool today with two novels that check all the boxes for summer fun reading. Both involve big weddings, travel, extravagance, complicated families, and love. At the same time, both have protagonists who find their identities stretched between their life in America and their racial heritage.
No spoiler—Destination Wedding takes place at a destination. Tina Das is an American-Indian producer who needs her one big break to make it at the streaming network where she works. She's hoping she'll find inspiration in Delhi at her cousin's week-long lavish wedding celebration. She goes with her long-divorced parents; her mother bringing her new white boyfriend.  Her father to meet a woman he's been emailing that he met through a matchmaker.
The stories here are as light as sherbet and, for the most part, as refreshing. But, Diksha Basu's debut, The Windfall, had depth and interesting insights into Indian culture so I wanted more of the same. It wasn't quite there. For much of the novel it felt as if Basu was straining with her writing, leaving the plot to wobble into cliché and the dialogue to feel forced. Then, just as suddenly, the writer I remembered burst forth and Destination Wedding clicked. Each element hit its mark and I was able to relax into no-fuss, fun reading.
Sex and Vanity by Kevin Kwan
Published by Doubleday
Publication date: June 30, 2020

Bookshop, Amazon
In case you're new here: welcome, and you need to know I am a huge fan of Kevin Kwan. Regular readers already know this and are a bit tired of my excitement about the release of his new novel. Thankfully, the wait is over—I've read Sex and Vanity and I have opinions.
Last week I reviewed Anna K, a retelling of the Russian classic Anna Karenina. Updating classics is risky business and in that case I didn't care for it. So, I was a little concerned about the fact that Sex and Vanity is a modern-day A Room with a View—a beautiful novel by E.M. Forster that I loved. The good news is that Kwan manages the transition well, taking the novel's original premise of mismatched love and being true to oneself and juicing it with exotic locales and extravagance in the way only he can.
Lucie Churchill is with her cousin, Charlotte on the island of Capri. To Charlotte's dismay the rooms have no view. When George Zao and his outlandish, pushy mother offer to switch, Lucie is reluctant. Something about George puts her off. He seems entirely too comfortable in his own skin, something she, as an American-Chinese woman, has never felt. Later he rescues her and things heat up, but her discomfort with George means she pushes him away.
Their lives don't intersect again for five years, until summer in the Hamptons, where the wealthy go to relax and watch each other in their natural habitat. Lucie is there with her new fiancé, Cecil, when George and his mother arrive, throwing everyone's plans into disarray.
The entire cast of the original novel is represented, updated in clever but sly ways (the bumbling Auden Beebee is a renowned life-coach and yoga master). The simple innocence of A Room with a View (watch the movie for welcome, lovely relief) is now gilded and bejeweled with descriptions of clothes, food, and lives that are fabulously fun reading. This, plus the humorous footnotes are a Kwan trademark and are always good for a laugh.
There is only one aspect of the novel that kept it from being 4 stars—Lucie. She is too closely styled like Rachel, the protagonist in the Crazy Rich Asians series. The earnest, hardworking, beautiful but down-to-earth young woman who isn't quite sure of her place in the world around her. Kwan's imagination and ability to capture the rarified world is such I'd hoped he'd go in a new direction with Lucie. Still, it's not a big deal, especially is you never read the series. Sex and Vanity epitomizes solid summer reading—it goes down as easily as a mango vodka smoothie and is just as yummy.
This post contains affiliate links which means if you click on a link and make a purchase, I get a small commission (at no cost to you).
Related Posts