Goodbye, Vitamin
by
Rachel Khong
Published by
Henry Holt
Publication date:
July 11th 2017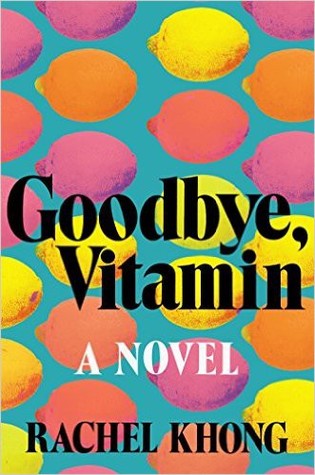 Rachel Khong's debut novel, Goodbye, Vitamin begins with a young woman named Ruth making the trip home for the holidays and her mother asking her if she could stay for a while longer because of her father. Because her father, a well-regarded history professor has begun forgetting things, to the point of being asked to take a leave from his job. And it turns out that by "awhile" her mother means at least a year. On the one hand, it's not too big a deal as Ruth's fiancé has just left her and her job is easy enough to put on hold. On the other, she's not prepared to confront a new version of her father, especially as there are things about the old version, namely his alcoholism and his affair, that she doesn't want to acknowledge.
But stay she does. She tracks the year as a journal of sorts with the days marking not just time moving forward, but of her reminiscences of her father colored by the man he is now becoming. A man often angry and reclusive who does not want to face either the past or what's happening in the present. Khong's usage of the journal format is a poignant mirror to her father's red notebook—the place where he recorded the things she said to him as a child every day. The whimsicality of the notebook with its childish observations
Today you asked me where metal comes from. You asked me what flavor are germs.

Today you bit off the corners of your sandwich and announced you were taking the edge off.
is that much more painful, overlaid as it is by his increasing loss of memory.
With the red notebook and other items and actions less profound and more mundane Khong uses the lightest of touch to create the deepest intimacy. Time and again she lets Ruth drop her careful, acerbic facade and speak directly to the reader, inviting them into her confidence—often about things she doesn't want to admit out loud. Even as she's coming to terms with the loss of the father she knew it is her awakening to the woman her mother has always been that pierces.
Here's the fear: she gave to us, and we took from her, until she disappeared.
Without trivializing what is a devastating illness Khong infuses Goodbye, Vitamin with an aching humor. It is not a novel filled with all the conversations we like to believe we will have with loved ones as time is running out. It is not a novel of escape. Rather, it is even better for its realism. The moments when silence is all that's left, when acceptance of what is is as good as it's going to get. Khong embraces these moments, filling them with a quiet beauty that is more impactful than grand gestures or sentimentality. Which is not to say that the last lines of Goodbye, Vitamin won't leave you in tears. Because they will.
Related Posts