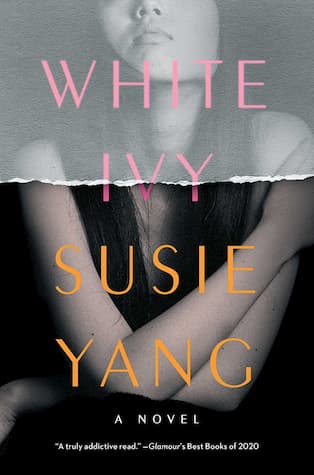 In an effort to have a better life Ivy's parents move from China to America without her, leaving her to be raised by her grandmother until she was 5 years old. Then her parents send for her. White Ivy is her story, as she assimilates into American life but holds on to her grandmother's teachings. In middle school she falls in love with a wealthy, golden, American boy, is pulled away by her parents, only to encounter him and his family again when she is a young woman on her own. An encounter that brings her to the life she's always dreamt of, but is it real?
One of the first lessons Ivy's grandmother taught her was
"Give with one hand and take with the other. No one will be watching both."
 Not the most uplifting of lessons, but, for whatever reason, Ivy takes it to heart and has no compunction about stealing. She believes Americans don't appreciate their things, but she will, so she should have them. As she grows into an attractive woman, she also learns to use her looks to get what she wants. By the time she re-encounters Gideon, her 6th grade obsession, it feels as if the stars are aligning to give her what she wants. She simply has to keep up the façade of who she thinks she should be to win the man she loves. Only it's easier said than done.
Whether it is intentional or not, Ivy reminded me of Becky Sharpe in the novel Vanity Fair. Except for as grasping as Becky was, there was also a pathos to her situation. Try as I might I could not feel that for Ivy or even anyone in her family. More specifically, I never felt anything for Ivy at all. She is a calculating shell of a person that left me with no emotional response at all.
I don't have to like a novel's protagonist, but if my emotions aren't engaged I become that much more aware of what I see as flaws. In White Ivy this translates to a feeling the author is explaining Ivy's intentions and motivations—insinuating the reader can't figure it out on their own. It becomes annoying.
Having said that, White Ivy stands as a warped story of one young woman's desire to succeed without even knowing what she wants. There is great intrigue in that kind of internal conflict, but within the framework of the novel, ostensibly about a first-generation immigrant trying to fit in, it gets lost. The character development to sustain it isn't there, but for entertaining, twisty reading White Ivy works.
This post contains affiliate links which means if you click on a link and make a purchase, I get a small commission (at no cost to you).
*I received a free copy of this book from Simon & Schuster in exchange for an honest review.*
Related Posts