The Underground Railroad
by
Colson Whitehead
Published by
Doubleday Books
Publication date:
August 2nd 2016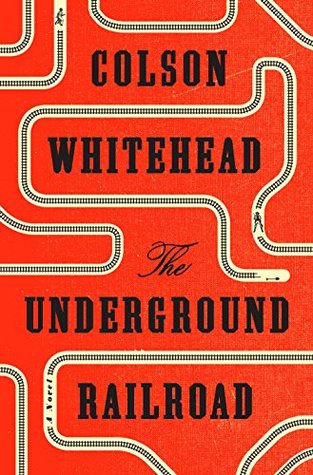 I wasn't planning on making this my week of impressive, but painful, tragic books but here we are. Reading Colson Whitehead's The Underground Railroad  is like watching 12 Years a Slave—both are extremely important, but neither are entertaining or enjoyable. They're too real for that. Cora is a slave who decides to escape from the brutal Georgia plantation that is the only home she's ever known. She goes with a young man named Caesar, who knows someone who is part of the underground railroad and can get them started on the path to freedom. Unfortunately, in the escape she kills a young white man. This, plus the fact of her owner's sadistic nature, means she is hunted with a particular fervor by a man named Ridgeway. For almost two years, they are locked in a deadly battle of cat and mouse, where despite her best efforts, he finds her and tries to return her to the man whose only interest is in making her suffer.
Whitehead takes the factual existence of the underground railroad and fictionalizes it by making it a real train. Instead of diminishing the danger (as in there is a train underground that runs straight from slavery to freedom and all you have to do it get on it) this choice heightens the difficulties. Not only are there are numerous stops, but they are deeply hidden and managed by whites—forcing runaway slaves to trust people who are most often their enemy. Cora and Caesar find themselves in South Carolina first, where they're given new names and new lives, where, although they're property of the United States government, they can now go to school and have options for work. Life is good enough that they pass on taking several trains to the next junction. Until Ridgeway finds them again but she escapes. And, so it goes, with Cora losing bits and pieces of her life, in places like North Carolina and Tennessee, as she tries to stay ahead of Ridgeway and make it to freedom.
There is no ambiguity in The Underground Railroad nor does Whitehead provide any respite in the reading. This is not caused by overwrought prose or sensationalistic details. Whitehead writes Cora's thoughts and dialogue with the flat affect of someone who has seen the worst of mankind and is no longer surprised by it. Rather, it is a wholly immersive experience (much like A Little Life, another novel of man's inhumanity to man) and the barbarity can be overwhelming. There were scenes that sickened me in their brutality. And yet, with the growing tide of people who excuse or romanticize the antebellum South, continuing to shatter the mythology is crucial. For over 100 years Southern plantation life has been whitewashed—literally and figuratively. The time for hard truths, even in fictional books, is now. The Underground Railroad is difficult but necessary reading.
And America, too, is a delusion, the grandest one of all. The white race believes—believes with all its heart—that it is their righto take the land. To kill Indians. Make war. Enslave their brothers. This nation shouldn't exist, if there is any justice in the world, for its foundations are murder, theft, and cruelty. Yet here we are.
Related Posts