Another Side of Paradise
by
Sally Koslow
Published by
Harper
Publication date:
May 29, 2018
Genres:
Chick Lit
,
Fiction
,
Historical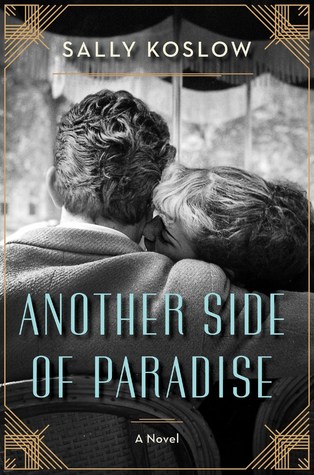 In case you've forgotten the details of F. Scott Fitzgerald's life, here's a quick recap: after his early, stunning literary successes he dumped his wife Zelda in an institution and headed to Hollywood to try and earn a living as a screenwriter, because he was deep in debt and his literary gifts have disappeared in an ocean of booze. Unfortunately, that job entails being sober and working hard, neither of which he was capable of by 1937. Enter Sheilah Graham, a young woman making a name for herself as a gossip columnist. She sees Fitzgerald at a party and decides the middle-aged, shabby author is the man for her and they embark on a tempestuous affair that lasts for the final years of Fitzgerald's life. This is the setup for Sally Koslow's new novel, Another Side of Paradise, a novel that captures both the glamour of 1930s Hollywood and the tragedy of a doomed love affair.
Koslow used letters, diaries, and other first-hand resources to piece together the three years when Graham and Fitzgerald were a couple. Three years that were turbulent in the extreme as Fitzgerald was an alcoholic and still married to Zelda. Much of the book consists of his being drunk, humiliating Graham in public, and then wooing her back. After the third such occasion it becomes almost impossible to care about this couple and their toxic relationship. The novel reads like historical chick-lit, because Fitzgerald is affixed firmly front and center throughout, despite his having no redeeming characteristics left. He is a creature to be pitied, yes, but in the same vein as Nicholas Cage in the movie Leaving Las Vegas—he didn't want to be and couldn't be saved.
Another Side of Paradise is light, skim reading but not particularly nuanced. Which is disappointing, because in the early part of the novel, Koslow covers Graham's life in England and it is an extraordinary story—from being left at an orphanage by her mother when she was 6-years-old to being engaged to an English marquis by the time she was 33. The gumption of a woman in the early 20th century, with little schooling, a Jew (at a time when anti-Semitism was rampant in England) being accepted in British society, and going on to have her own career is fairly astonishing. Sadly, those three decades are only a small part of the novel.
The timing of Another Side of Paradise was particularly bad for me, having recently read Love and Ruin, a novel about journalist Martha Gellhorn's relationship with Ernest Hemingway. In both novels, strong, intelligent, women set aside their ambitions for men who did not their support talent and even went so far as to subvert their careers. The good news is that I'll save time by never reading about the personal lives of Hemingway and Fitzgerald again. The bad news is that Another Side of Paradise offered such a small, thin, slice of a fascinating woman's life.
Related Posts