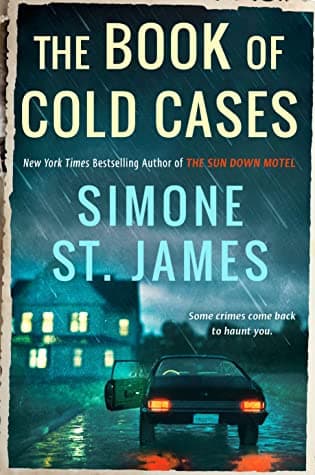 Shea leads a constricted life. It's her only choice after a terrifying childhood incident that shattered any belief she might have had in security. It also placed her at the nexus of a murder, not as a suspect, but as a witness. Now, she lives in the same Oregon town where she grew up, works as a receptionist, rides the bus, has no friends but her sister, and obsessively spends her time running a website about cold case murders. Rather than exorcise her demons, she lives with them in Simone St. James' The Book of Cold Cases.
When an acquitted serial killer suspect arrives in the waiting room of the office where she works, Shea acts without thinking and follows her after her appointment. Beth Greer is infamous in their town for supposedly having murdered two men. Her wealth and her icy demeanor mean that she speaks to no one and has never done an interview about the accusations against her. Now, she agrees to talk to Shea, but only at Beth's house. A mansion with its own stigma—Beth's father was murdered there when she was a teenager. People say the place has always been haunted, but despite everything that's happened and the fact she could live anywhere, Beth has never left.
St. James makes marvelous, subtle choices in Cold Cases, each enhancing the story's tension. There is a dual timeline, but only for Beth's past. Shea stays rooted in the present, weighted down with all her fears.  Both women have a narrative, but only Shea's has the immediacy of speaking in the first person, again rooting the reader in her fearful reality. This 'jumpiness' is infectious especially as there is a paranormal element to Cold Cases. When Shea visits the Greer mansion, she witnesses faucets running and cabinets that open when she turns around. At night, when no one is around footsteps appear in the dew in the backyard and a palm leaves a print on a window. *Shiver*
These ghostly aspects create a deeply eerie atmosphere throughout the novel. There's no need for overt violence or gore either in the supernatural or real world. The Book of Cold Cases scares as much for what it doesn't say as what it does. The readers' imagination is left to do the rest.
If you like your mysteries mixed with a bit of the supernatural you'll enjoy St. James' last novel The Sun Down Motel.
This post contains affiliate links which means if you click on a link and make a purchase of any kind, I get a small commission (at no cost to you).
Related Posts