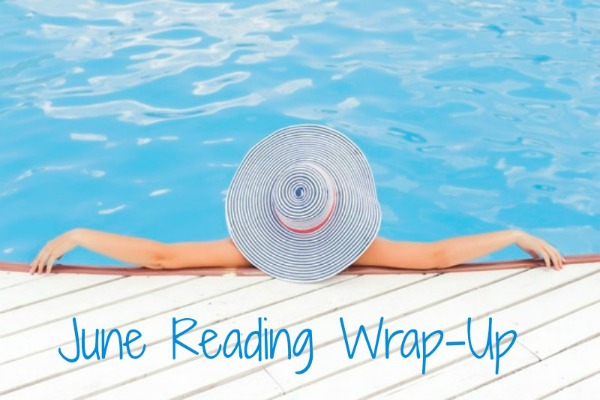 Quick disclaimer: it never got anywhere near warm enough in Seattle in June for outdoor swimming so this photo is fake news. There was no lounging and reading by the pool—I was wearing socks the last week of the month, but that's all right for me. I spent three days in the 90° heat with 80% humidity that was Cleveland and it was more than enough to remind me why I love the Pacific Northwest.
Enough about the weather! June was a mixed bag for reading with highs that include: Standard Deviation and Everybody's Son. Here's a quick look at some other books that rounded out the month.

The Turner House by Angela Flournoy
Published by Mariner Books
Publication date: March 1st 2016
Genres: Literary



Bookshop, Amazon
This is a thoroughly contemporary story about a city, a house, the family that inhabits it and what happens to all of them through the years. Flournoy does a beautiful job illuminating not only the larger plight of Detroit, but of a family that is quintessentially American in their drive for the American dream. The difference lies in the fact that they are black so the dream never materializes, despite their best efforts.
There is a fantastical element in The Turner House (a ghost) that ends up being a detraction. It takes focus away from the lives of the various family members—all of which were more than enough to sustain the novel. While not a treatise on race inequality, Flournoy gave me the kind of fiction I appreciate most—the kind that takes me beyond my limited worldview to show me other people's realities.

Anne Boleyn: A King's Obsession (Six Tudor Queens #2) by Alison Weir
Published by Ballantine Books
Publication date: May 16th, 2017
Genres: Historical



Bookshop, Amazon
This is book two in Weir's series Six Tudor Queens and I highly recommend it. The first novel was about Catherine of Aragon (The True Queen). So much about the times is written with Henry VIII as the focus but Weir uses exhaustive research and her background as a historian to unearth details that give these women a real voice. Anne was not simply a foolish vixen thrown in the king's path by her power hungry father. She had goals of her own and was highly intelligent. More importantly, she was significantly more nuanced than most history has ever portrayed her. I'm a geek for historical fiction about the Tudors and I still learned things about this fascinating woman. Don't let the novel's length dissuade you, Weir is a skilled storyteller who writes engrossing reading.

Behind the Beautiful Forevers: Life, Death, and Hope in a Mumbai Undercity by Katherine Boo
Published by Random House
Publication date: February 7th, 2012



Bookshop, Amazon
A heartrending account of life in a Mumbai slum that begins with one disabled woman lighting herself on fire to get revenge on a perceived slight by her neighbors. Young girls and women killing themselves is almost commonplace, which is surreal to an American, but when your life is nothing but beatings, dire poverty and forced marriage as a teen it is depressingly understandable. I listened to this book and it was difficult reconciling the Indian narrator's beautiful, lilting voice to the surreal deprivations of slum life.

The Shadow Land by Elizabeth Kostova
Published by Ballantine Books
Publication date: April 11th 2017
Genres: Mystery, Historical

I was absolutely mesmerized by Kostova's first novel, The Historian, which also took place in Eastern Europe. This time the locale is Bulgaria, brought to somber life when a young woman, Alexandra, decides to go there to work as an English teacher. A chance encounter at a hotel leaves her with someone else's bag. And in that bag? An urn of ashes. She enlists the help of a kindly taxi driver and goes to the police who point her….and so begin her travels through Bulgaria to find the family of Stoyan Lazarov and return his ashes.
The Shadow Land was like the longest car trip ever. The scenery may be beautiful but at some point you just want to arrive at your destination. Go too far and that arrival will feel anticlimactic. Kostova packs the novel with too much ballast about Bulgaria and not enough tension. The novel is bulky and so crammed with winding side roads that I felt carsick. Even Kostova's beautiful prose was not enough to keep me focused on the novel's plot.
The People We Hate at the Wedding by Grant Ginder
Published by Flatiron Books
Publication date: June 6th 2017

I was seduced by the title because who hasn't had to attend a wedding where everything would be awkward. Sadly, the book does not play out well. The characters are so completely one-note in their awfulness that it ended up being a hate read—in that I should have DNFed it but kept going (skipping entire pages). And don't get me wrong—I love an unlikable character, but they have to be interesting and these people weren't nor were their predicaments.
In addition to reading, I'm getting my money's worth out of Netflix. I watched the newest season of Orange is the New Black and liked it even though it veered into the implausible more often than not. Still miss Poussey, though, and wish she wasn't gone. Now, I'm 8 episodes into House of Cards and beginning to feel as if this is a masochistic television viewing on my part. The Underwoods are doing to fictional Washington what Trump is doing to real America and, so far, just like this president, they're getting away with it. Both are giving me agita even though House of Cards isn't going to trash my healthcare coverage or impact my life.
How about you? How was your June reading? Any less stressful TV you'd recommend?
Related Posts