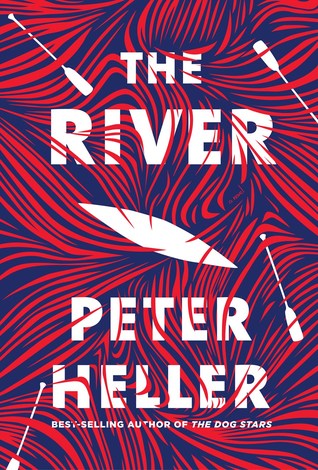 Books written by men and about men? No thanks. All about canoeing and camping? Hard pass. Set entirely in the wilderness? Nope. Peter Heller's new novel, The River? 5 stars. Yes, you read that right. Nothing about this novel's description appealed to me, but when my friend Susie recommended it I knew I had to let go of my prejudices and give it a go. 24 hours later I finished and was still reveling in Heller's prose and the story. Feel free to click away from this post and head to the bookstore or library to get a copy now.
Wynn and Jack are two outdoor-loving college friends who decide to chuck it all for the month of August and canoe the Maskwa River in Northern Canada. They've brought gear for virtually every eventuality and are prepared to fish, hunt, and live off the land for their food. What they did not expect was a raging wildfire that meant they would have to change course to get to a safe place. Even worse, they did not expect finding another canoer (is that what they're called?) who tells them his wife has been lost and he's going for help. They had heard a couple arguing the previous day but it was foggy and they didn't see them. Still, Jack's instincts kick in and they double back to look for the woman. Who they find, unconscious and badly beaten.
From this precipitous point, Heller could have made The River into a straight-up thriller because the elements are there. Instead, he stays the course with lean writing about surviving in nature when everything goes wrong. Because August in northern Canada is nothing like here in the U.S. and an encroaching wildfire isn't much bothered by a narrow river. Yes, there is a seriously injured, semi-conscious woman with them and a man who may now want to harm all of them, but Heller keeps the story focused on the details of man and nature. The immediacy of trying to find food, to avoid being burned alive, and to navigate a river to safety.
Survival may provide the tension in The River but what lifts it into its own genre of literary fiction is how beautifully Heller approaches the greater themes of life. Namely, friendship and personal responsibility. Wynn and Jack are beautifully drawn characters, each distinct in their being and yet, bonded by the joy of being young and having that one other person who understands you and has your back. This friendship is poignant and so evocative of a time in life that even if the other elements had been stripped away and this was a novel about nothing more than a canoe trip I still would have loved it and rated it the same way.
Related Posts