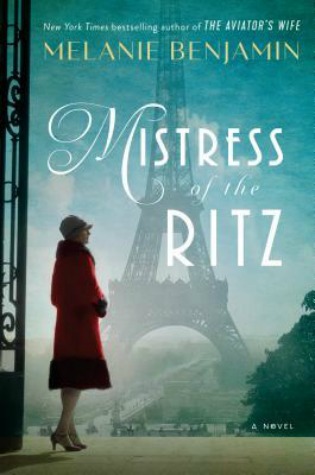 I began this week with a novel that took place partly during World War II so will keep it clean and end that way. Except, Mistress of the Ritz takes place in the thick of it—Nazi headquarters in Paris, the Hotel Ritz. Author Melanie Benjamin is back with a historical fiction based on the life of Blanche Auzello, the wife of the Ritz's director during the war.
Blanche and Claude Auzello met when she was an American ingénue, literally fresh off the boat in 1923 and ready to sample all the excitement of Paris. Claude was older and already making his way up in hotel management. After a romance of a little more than one week, they married. By the time the 1940s roll around and the Nazis invade, Blanche has had to accept that it is normal in France for men to have a mistress and Claude has realized that his wife is not the demure damsel he thought she was. She believes herself to be equal to him and she likes to party. After a decade of marriage when each is pushing back against the Germans in whatever way they can, they don't communicate at all. Neither has any idea of what the other thinks. In fact, they attribute the worst to each other. Blanche thinks Claude is a toady to the Nazis and he thinks she is a drunken fool who hangs around with the wrong sort of people.
Benjamin mentions in her notes at the end of the novel that very little is known about either of the Auzellos, which might explain why various aspects of the novel are hard to understand. Except that without the facts she chooses to portray their marriage as cold and miserable. This is just one passage of Blanche's thoughts:
"…Claude the prig, Claude the uptight. He never changed and it was such a cruel trick that he had so dazzled her in the beginning that she couldn't see who he really was."
Why the need to make them adversaries or, at the very least, so unaware of each other's true nature?
This is just one aspect of the novel that left me shaking my head. Overall, I found Mistress of the Ritz to be very hit or miss. The novel seesaws between tension and believability and lightweight froth. Blanche is impulsive and emotional, but she manages to fool the Nazis for years with actions that require calmness and discipline? She abhors her husband's cheating, but does it herself? Her character shifts between extremes, leaving me feeling as if I still did not understand this woman by the novel's end. This is light, fast historical fiction about a woman who may never be truly known.
Related Posts