The Swans of Fifth Avenue
by
Melanie Benjamin
Published by
Delacorte Press
Publication date:
January 26th 2016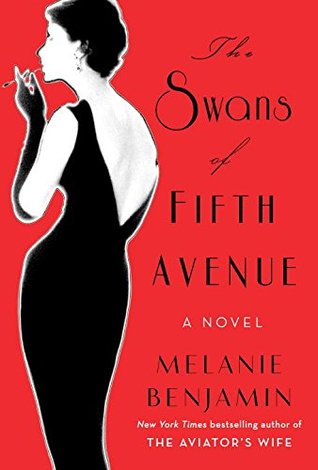 Once upon a time there was a group of very special women who lived in New York City. They were icons of fashion and social arbiters of everything that was right about high society. It was the 1950s and they were Babe Paley, Slim Keith, Gloria Guinness, Pamela Churchill, and Marella Agnelli and they were The Swans of Fifth Avenue. So named by the small, witty, flamboyantly gay author who entered their midst and proceeded to enchant and amuse them. He was Truman Capote and they were his flock. In this deliciously dishy novel author Melanie Benjamin follows the outrageous Capote from the time he makes the acquaintance of this privileged group of socialites until he pulls back the curtain on the fantasy of their lives with the publication of a short story that detailed their not-so-pristine secrets.
While The Swans of Fifth Avenue is showcased as decadent fiction—peering into the other-worldly life of the rich and famous—Benjamin melds the opulence with her imaginings of the lives beneath the couture clothes, private jets, and jewels. The story focuses on Babe Paley, who was widely acknowledged through the 1940s and into the 1960s as the best dressed woman in the world. What Benjamin shows is that marriage to a powerful man had no bearing on happiness or fulfillment. Babe was one more ornament on the tree of William Paley's life. An ornament whose sole purpose was to enhance his reputation.
Be perfect. Because that's what people expect of you now. Because what are you, if not that? Who are you?
Every aspect of his life and every whim he ever had was indulged so that he was left only to run the CBS empire and sleep with whatever young tart caught his eye. In return, Babe had a surface life that gleamed with all the best money could buy. Multiple homes and the staff to maintain them, furs, jewels, couture clothes, and a social life with other rare creatures such as herself. They lunched, they sunned, they skied, they drank champagne like tap water and boy, did they gossip. Capote pranced into their superficial lives like a shot of adrenaline to the heart and they embraced him. He called each his pet, his best friend, his one and only. Except that, even to the others, he and Babe had a special relationship
He was exactly like her. Rare and exotic and yet so completely messy and ordinary. Disgustingly ordinary. So ordinary that great pains must be taken to disguise the fact, to protect the feelings of those who invested so much in exoticism and perfection.
It's through these insights into the insecurities of people with brilliant façades that brings a touch of humanity to Swans. Not too much, because they are still gossipy, backstabbing hens, but Babe's loneliness in the midst of all the adulation from the outside world feels real. That she and her friends chose to open up to the infectious but wily Capote feels at once like a betrayal and a 'what did you expect' moment. While the details glitter they are reflective of the cold ice that lies beneath each of the characters lives and that is where Benjamin excels. For Capote, reaching his literary goals was not enough and he soon loses himself to the allure of the high life. The addiction to fame overtakes the desire and ability to create so he is left to mine territory he shouldn't—the private lives of his so-called friends.
Another of the aspects of Swans that Benjamin exploits so perfectly is that this was a time of glamour in its purest, most physical manifestations. There were no paparazzi, no selfies, no women being caught out at events without underwear—it simply wasn't done. And the way things were done was still of paramount importance. Yes, cameras photographed Babe, Slim, Gloria and Marella endlessly but it was to showcase their elegance and style, not to exploit their foibles. Privacy and its not so glamorous sister, secrecy, ruled these times. Capote was the first to publicly out the scandals of this insular world and Benjamin captures his mesmerizing voice perfectly in an intelligent novel that delighted me from beginning to end. The high drama of The Swans of Fifth Avenue makes for charismatic reading that is as seductive as the world it portrays.
Related Posts