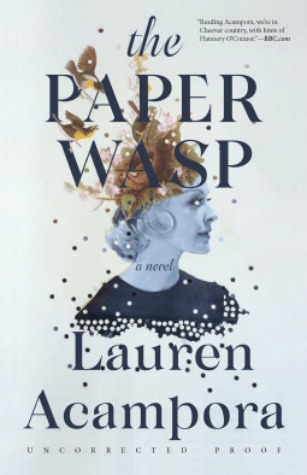 The Paper Wasp is the story of two young women living in small Michigan town who were best friends. Up until high school that is, when Elise was discovered and left town for L.A. to become an actress. In losing her popular best friend, Abby floundered and even though she ended up as valedictorian she never fit in again. Now, a decade has passed and Elise's star is on the rise while Abby still lives at home and works in the local grocery store. It's only when the girls meet again at their 10-year reunion that everything changes for both of them.
Pretty straightforward synopsis, right? Well, that's the only part of this novel that is. The Paper Wasp is told from Abby's point-of-view and she is, to be blunt, creepy. She lives in a world of what she calls 'surges' and 'depths', but which read as bipolar—and maybe it is. She has an incredibly rich inner life that manifests itself in her drawings and in her obsession with Elise. After they meet at the reunion, Elise invites Abby to visit her so Abby steals her parents' car and their credit cards and goes to L.A. She and Elise reconnect and she becomes her personal assistant. Despite the lethargy she's displayed so far, Abby doesn't find this turn of events surprising:
I'd long nurtured the private suspicion that I was an outcast not because I was inferior, but because I was exceptional; that the fulfillment of my purpose awaited activation from the universe; that I just needed to wait. And now, as simple as a music box clicking open, it was time.
At this point, I'm thinking this is going to turn into an All About Eve or Single White Female scenario, but it doesn't. It goes somewhere even more bizarre.
Author Laura Acampora throws a lot at the reader, including an avant-garde director, Auguste Perron, who espouses unusual techniques to release the creative spirit. Both Abby and Elise are enamored with him and both hope to come to his attention. He has an institute that caters to the needs of artists and helps them reach their creative potential using his methods of waking (or lucid) dreaming. Abby is very good at it while Elise is not. Acampora also adds a psychic tint to this, with some of Abby's dreams becoming reality. This can begin to feel a bit twee, but we're talking about actors so it's excusable. What is more disconcerting is the growing shift between Elise and Abby. The more we see of Elise, the less secure she appears. Again, not too unusual for Hollywood, but as Elise's stability wobbles, Abby's disdain for her grows. She is still outwardly solicitous, but inside she is vicious in her belief of Elise's inferiority. How undeserving she is of all she's been given.
It's not often that I say I liked a book but hesitate to recommend it, but that's the case with The Paper Wasp. Acampora comes on strong from the beginning in crafting Abby as an unpleasant character, which is fine, but she's uninteresting as well—an apathetic loser with delusions of grandeur. It's only once she reaches L.A. that the novel levels off into an intriguing look at perception versus reality, the power of ambition, and the sometimes-insidious nature of friendship. It still has a fever dream feeling, but in a way that kept me reading. All of which is to say: if you're in the mood for unusual, inventive, atmospheric fiction (think Night Film) with a hint of satire, and a hell of an ending, then read The Paper Wasp.
…no one wants the truth. We don't want to live with it; we don't want to bathe in it. We want to supplant it. We want the dream, not the real. We long for fabrication, hallucination, false catastrophe.
Related Posts