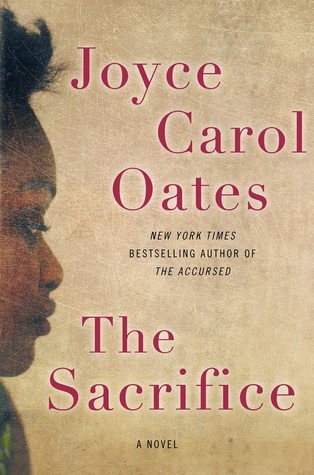 Joyce Carol Oates is not one to shy away from the tough subjects. The last book of hers I read was Daddy Love and it was a very difficult look at child abduction and pedophilia. In The Sacrifice she is back with the story of a black teenage girl found in an abandoned factory, raped, beaten, covered in feces and with racist obscenities scrawled on her torso. For those of you younger than 40 this may sound new but by chapter two I knew Oates was reprising the Tawana Brawley case—one that in the 1980s pushed every American button we've got: police brutality, rape, and racism. Oates takes these themes and runs with them, writing each chapter in the voice of the various participants. There is the mother Ednetta, who seems uncertain as to what has happened to her daughter but who is so afraid of the system that she refuses to allow doctors to do a rape kit and forcibly removes her from the ER. In the immediate aftermath of the attack the girl herself, Sybilla, is a disconcerting mix of frightened and sly. She feigns unconsciousness in order to avoid all medical attention. When pressed, the only story she has is that four, five or maybe more white men with badges kidnapped her and held her hostage for multiple days.
There are authors who lead gently into their story but Oates is not one of them. In the same way that she is taken over by the characters—indeed, their voices are so authentic she seems to be channeling them—she throws the reader headfirst into the narrative. Either you swim with her or you sink. In The Sacrifice this occurs when the charismatic Reverend Marus Mudrick shows up and any chance at a clear resolution is lost. Sybilla's hole has been dug and whatever was the truth is buried in a landslide of self-serving grandiosity. She is now the face of racism in America despite there being no evidence whatsoever that anything happened as she says. Instead her team of advisors uses charges of racism to impede the police investigation and to keep the media in a state of frenzy for the truth.
 The Sacrifice takes what was an explosive incident in American history and renders it back with high-intensity immediacy—what unfolded over months is now condensed into several hours' worth of reading that cannot be put down. Because Oates writes the novel in a surround-sound manner with even the most ancillary characters having a say The Sacrifice swings the reader back and forth between incredulity and sympathy, doubt and conviction, anger and sorrow. Whether you know the facts of this story or are approaching it from a purely fictional angle, this is reading that will evoke strong emotions.
Related Posts