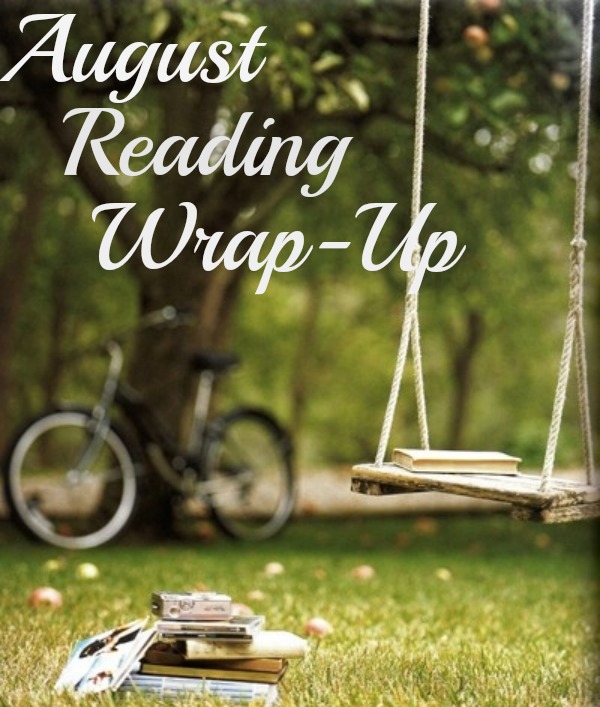 What a month! I hope you all had a more vacation-y time in August than I did. The month wasn't bad, it was just a time of adjustment—Jed moved to Ann Arbor for his job, I stayed here and began the process of wrapping up our Seattle life, prepping to move, and preparing our house to become a rental property for the next five years. I took the last two weeks off to try and find a routine that works for my temporary life and blogging. 
We Are All Good People Here
by
Susan Rebecca White
Published by
Atria Books
Publication date:
August 6, 2019
Bookshop
,
Amazon
According to the Goodreads ratings I'm standing all by myself in left field on We Are All Good People Here, because most readers gave it 4-5 stars. Despite my cover love, I struggled to give it 2. For me, the biggest problem was Eve. Her flip-flopping through life from being a flighty debutante with a good heart to being a 1960s radical living free love and violent opposition to the Vietnam War to marrying an older, traditional Republican and embracing the country club life to what happens after that just stretched my credulity to the breaking point. I didn't buy it and given that she was one of the main characters it made the entire house of cards feel flimsy.
All of the positions were extreme and the author decided to touch on virtually every hot button issue from the last 40 years. It felt like a mashup of Forrest Gump and Zelig and read messy.
The Helpline: A Novel
by
Katherine Collette
Published by
Atria Books
Publication date:
July 23, 2019

Bookshop
,
Amazon
Germaine Johnson is a math whiz, which worked well for her in her job as a senior mathematician at an insurance company. What didn't work so well was her inability to get along with anyone. After she's let go, she lands as a call center rep for her local senior citizen's help line. What follows in The Helpline is a series of misunderstandings and mistakes all caused by Germaine's inability to read the world around her. Or to acknowledge she may not have all the answers.
The Helpline has a strong Eleanor Oliphant is Completely Fine feel, mostly because Germaine is as awkward and literal as Eleanor. Both put people off and claim to be happy in their solitary lives. In this way, their interactions with the world make for highly humorous reading. But under the surface, the novels differ in that The Helpline is without the depth of Eleanor, but that's all right. This is light, enjoyable, quirky reading—the perfect reset if you've been reading too much heavy fiction.
The Ditch
by
Herman Koch
Published by
Hogarth Press
Publication date:
June 11, 2019
Herman Koch has proven, once and for all that he can write completely unlikable characters. Where he fails in The Ditch is keeping them interesting. Robert Walter is the mayor of Amsterdam and he is arrogant, paranoid, and racist. Not to mention pedantic and tedious. After catching a glimpse of his wife laughing with another man at a cocktail party he decides they're having an affair and from there, the novel, and his mind, unravel. The most surprising thing I can say about this 3rd of Koch's books is what an unflattering portrait he paints of the Dutch. My sense of them as a nation is a possibly bland, but largely amiable, if reserved, people. This is the 2nd of Koch's books written with them as virulent racists. Am I naive? No matter, I'm not likely to return to Koch's version of Holland.
The Dearly Beloved by Cara Wall: loved this book about faith and relationships. My review
The Reckless Oath We Made by Bryn Greenwood: a bold stylistic choice by Greenwood paid off. Review to follow
The Hunting Party
by
Lucy Foley
Published by
HarperCollins UK
Publication date:
January 24, 2019

Bookshop
,
Amazon
A group of college friends gathering at an exclusive and remote Scottish lodge for New Year's Eve weekend is the setting for The Hunting Party. No spoiler, but one of them ends up dead. The novel is reminiscent of The Secret History in that the further you read, the more you learn these people are less old friends and more a pit of vipers. The pace of this thriller is quite slow (remote Scottish lodges buried in snow don't scream tension), until the final fireworks. The most successful aspect of the novel is about which guest is dead. Beyond that, it's a good but not great mystery.
Because my reading has been so hit or miss in August I also binged on a free trial of Amazon Prime television. If you haven't watched any of these, I highly recommend them:
The Marvelous Mrs. Maisel- what's not to love? The dialogue, the characters, and her clothes are all beyond fabulous. The only thing wrong with this show is that there are only two seasons.
This is Football  is a six part series about soccer. I've never followed the sport until this years World Cup when the American women dominated the competition. This series is fascinating and heart-warming. I learned so much and loved every minute of it.
The Man in the High Castle is a series based on the Phillip K. Dick novels of the same name. The series is predicated on the Germans and Japanese winning WWII and splitting America between them. Scary, complicated, with lots of twists (it is science fiction after all), this is outstanding television.
How was your August?
Related Posts