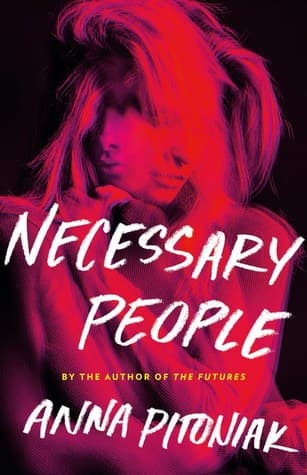 It always seems as if being the friend of a really wealthy person would be fun—going expensive places, but never having to pay, exotic vacations, great gifts. But it never plays out that way in fiction. The last novel I read about a rich girl/poor girl friendship was Social Creature, which I disliked when its plot veered into the wildly implausible. So, I was hesitant to read Necessary People. Stella and Violet meet at college and it's all fun as Violet is basically adopted by Stella's uber-wealthy family. After school, they buy an apartment for their daughter who promptly departs for a world tour with no destination or return date. Violet moves into the apartment and starts adulting.
Complications arise when Stella finally comes back home and seems to want what Violet has. Using her connections, she gets a job at the cable news station where Violet works. Violet is left to watch as Stella, despite having no interest in or knowledge of the news, suddenly has access to places Violet can't reach.
She spent her opinions like she spent her family's money: easily, constantly, but never as an investment in something permanent. She'd say something provocative, and often true, but then she'd abandon it.
When the situation gets personal, harsh truths are revealed and the plot twists. The reason it all works is that Pitoniak writes Necessary People with nuance and layers. I was especially intrigued by this description of Stella, because I feel as if we've all known people like this:
Stella's charm, her glow, her energy —it was so powerful that anyone who stood close enough could feel it. People were happy when they were near Stella. She saw that, and she took credit for their happiness. So when the shtick eventually wore off, when a person started to see Stella for who she really was, she couldn't understand what had changed.
The lives of Stella and Violet get tangled to a degree that the novel's climax feels like the only way out. It's both relatable and gripping reading—perfect if you're looking for an escapist, what-if book.
Related Posts