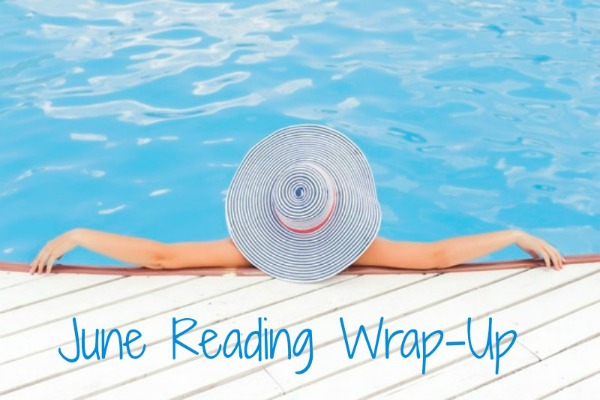 Like a number of other bloggers I talked to, my reading fluctuated in June from really good to gave-up-on to meh. The good news is that I got to attend two great book e

vents—Madeline Miller was here to discuss Circe (which is my favorite novel of the year so far) and Georgia Hunter gave a wonderful presentation about the facts behind her wonderful historical novel, We Were the Lucky Ones. Even better, Susie from Novel Visits came to Seattle for Georgia's event so I also had a fun time visiting with a bookish friend. 
We Are Gathered
by
Jamie Weisman
Published by
Houghton Mifflin Harcourt
Publication date:
June 5, 2018
We Are Gathered is set at a family wedding, but rather than a joyous occasion, author Jamie Weisman uses the event to plumb the depths of the various guests' psyches and they are a cold and lonely space.  This novel may have a grand and profound theme, but I had to quit before I was halfway through because it was too depressing. The writing is good enough, but a sad character study set at a wedding? Not for me right now.
A Place for Us by Fatima Mirza: another novel set at a wedding, but while it is not a 'happy wedding' novel it has a lot to recommend it. Review to follow.
Calypso by David Sedaris:My review
Social Creature
by
Tara Isabella Burton
Published by
Doubleday
Publication date:
June 5, 2018
Lavinia is loaded—in every way. Too much money, too much booze, too much free time to pursue any cockamamie dream that enters her cocaine addled brain. Louise is the opposite—no money, no partying, and three jobs, none of which she does well. When the two meet and Lavinia decides they're best friends in Social Creature it's a nonstop flight to destruction for one of them. p.s. It's Lavinia, which we're told at the beginning. I'll be blunt: I disliked this book so much I stopped it at 60% because it felt ludicrous to me. Then enough people I trust liked it that I picked it up again after two weeks and finished it. Yes, there are twists and turns and Tara Burton writes well, but none of that is enough to compensate for a plot point that is patently impossible and negates everything else in the novel. For me.  It moves quickly so if you like crazy and plot-o-plenty, you might want to give it a try.
The Verdun Affair by Nick Dybuk: Sophomore effort by an author whose debut I loved (When Captain Flint Was Still a Good Man). This is very different but still lovely. Review to follow
How Hard Can It Be? by Allison Pearson: Hilarious take on life at middle age while trying to re-enter the workforce, keep love alive, and deal with teenagers. My review
Lady Be Good
by
Amber Brock
Published by
Crown Publishing Group (NY)
Publication date:
June 26, 2018

Kitty Tessler is the quintessential bored rich girl. It's 1953 and Daddy owns a chain of hotels and nightclubs in New York City and Miami. Anything she wants, she gets except for what she wants most: acceptance from Manhattan's social elites. When her father tells her she has to either marry his second-in-command, a nice but not wealthy young man or start working, Kitty realizes she's got to take action to secure the life she wants.
There is no point in pretending Lady Be Good is anything other than what it is—historical chick-lit. I mean, hello? That cover! The novel is composed mostly of air, much like what fills Kitty's head. But guess what? It works. This is the epitome of summer beach/pool/vacation reading. There are no surprises, there's a positive message, and everything wraps up with a feel-good ending. Sometimes, that's all I need, especially coming off two more serious novels.
The Book of Essie by Meghan Maclean Weir: A compulsively readable novel that blends the worst of religion, reality TV, and bigotry. My review
Great Reading from Years Past
June 2014:
June 2013: 
How was your June reading?
Related Posts