Welcome to the first full week of January and my winter 2020 reading picks! Not to mention the beginning of a new decade. I can't even imagine what my life is going to be like in another ten years, although I'm virtually certain I'll still be reading. Will artificial intelligence have advanced enough that I'll have a bot that will make my reading picks for me and guarantee a 100% success rate? Would I even like that?
Sorry, my mind spun off in all kinds of different directions with that thought. Until AI takes over choosing the books that I (and hopefully, you) want to read, here are the ten books I most want to read this winter. My choices are all over the board so there's something here for everyone.
(To learn more about each book click on title link for Goodreads synopsis)
In Tishani Doshi's novel Small Days and Nights, Grace's mother has died, leaving her a small house on the beach in Madras, India. Her marriage is ending so she escapes to a new life, only to find she has a sister she's never known about. (W. W. Norton, January 20)
I loved Jenny Offill's debut Dept of Speculation so I'm excited that she's back with a new novel. Weather looks to be another hit for me because, hello, the main character is a librarian. I'm in. Lizzie is dealing with a needy mother, an addict brother, as well as her own life with her husband and son. Who knows why she agrees to answer the mail sent to her friend's popular trendcasting podcast, but she does. And, big surprise!, it doesn't go well. From what I've seen about Weather Offill is going to mix the very real issues that divide us right now with the snarky humor she does so well. (Knopf, February 11)
Another novelist whose debut I loved is Hannah Rothschild (The Improbability of Love). Her new novel is House of Trelawney, which looks likely to be just as much fun.  It's about impoverished English nobility crammed into a crumbling ancestral estate.  What's better than quirky Brits, wealthy people behaving badly, and family dysfunction? I'm counting on this one to stave off the February blahs. (Knopf, February 11)
Kimmery Martin's The Antidote for Everything looks to be the kind of challenging reading I like. Set in South Carolina it's about friends who are doctors, working at the same hospital. Their lives are turned upside down when the hospital decrees they cannot treat transgender patients. They're forced to choose between their professional ethics and their jobs. (Berkley, February 20)
Because I'll be desperately yearning for sunshine and warmth by March, I'm going to have to find it in my reading. The Jetsetters is about an extended family who wins a 10-day cruise around the Mediterranean. Sounds dreamy, but it means this dysfunctional group is effectively trapped on a boat. I'm really hoping for the kind of crazy that's funny, not over-the-top. (Ballantine Books, March 3)
Therese Ann Fowler writes historical fiction about famous women. Her novel Z about Zelda Fitzgerald is fabulous. However, her new novel, A Good Neighborhood, is not only not historical, it's not about one woman, but is told from multiple viewpoints. It's set in North Carolina and is about two families in one neighborhood. One is a single parent racing a biracial son and the other is conservative, new money. The only thing they have in common are teenagers and a property line. And both get messy. My sense is this is going to be brain candy—entertaining, but makes you think. (St. Martin's Press, March 10)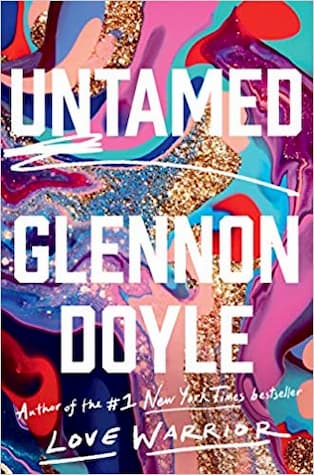 I listened to Glennon Doyle's memoir, Love Warrior, while I was driving from Seattle to Michigan. She made her struggle about figuring out what to do with her life so relatable that when I heard she had a new book coming out about the next chapter, I knew I'd read it to see what happens next. Which isn't a mystery- she's married to soccer great, Abby Wambach, but she has such a way with words and wisdom I want to know more. Plus, her Instagram feed and Abby's Instagram feed are great for either making you laugh (watch Abby's feed as she tries to explain penalty kicks to Glennon during NCAA final on on 12/8/19)or making you think. (The Dial Press, 3/10)
I've always loved Southeast Asian fiction so when I saw this family saga set in Vietnam I knew I had to read it. The novel is called The Mountains Sing and it's by Nguyễn Phan Quế Mai, a well-known Vietnamese poet.  It's a multigenerational story beginning with a mother and her 6 children fleeing their farm in the 1920s when Communism first began taking holdin North Vietnam. From there, the novel moves to Hanoi and the woman's granddaughter as she faces the beginning of the Vietnam War and what it does to her family. A debut, set in an area I love reading about, The Mountains Sing is all set to be a hit for me.  (Algonquin, March 17)
The Shape of Family is about an American man and an Indian woman who meet, marry, and settle in California in the late 1980s. Fast forward to now when their children are heading off to college and tragedy strikes. Each member in this tight knit family reacts differently and they pulled apart. I feel as if this could be a fascinating look at the meaning of family as cultures blend in our modern-day world. (William Morrow, March 17)
Emily St. John Mandel's post-apocalypse novel, Station Eleven is still one of the best, dystopian novels I've ever read. On March 24th her new novel, The Glass Hotel comes out and it's already getting a lot of buzz. I'm intrigued but nervous, because the synopsis sounds really bizarre—like the opening to a bad joke: A bartender, a hotel owner, an artist all collide. Then one of them disappears. Oh, and there's a Ponzi scheme. If it were any other author I'd pass on this one, but I'm trusting that makes it all come together. (Knopf, March 24)
Want even more winter reading ideas? Then check out the latest episode of Sarah's Book Shelves Live. Sarah and I always have fun and you'll get some recommendations I didn't mention here as well as Sarah's picks—all

of which sound really interesting. There's plenty of great winter books coming out!
This post contains affiliate links which means if you click on a link and make a purchase, I get a small commission (at no cost to you!).
Photo Attribution: Sincerely Media
Related Posts