November- what a month! I made it from Seattle to Ann Arbor and had a fabulous time driving across country. All our belongings showed up intact and on time with only a few hiccups. We're still unpacking, organizing, and dealing with the 'our furniture doesn't fit in this space' confusion. And getting hit with an unexpected storm that left 6" of snow behind. I knew I'd have to deal with winter, but not quite so soon.
 The good news is that this meant November was a great month for my reading. I read 18 books the majority of which were 4-5 stars. It was some of my best reading of the year.
Love Warrior by Glennon Doyle Melton
Publication date: September 6, 2016



Bookshop, Amazon
It seems I'm a fast reader, but a slow listener because the majority of audiobooks I listen to seem to last 100 pages too long. Setting my problem aside, there was a lot about the memoir Love Warrior that I liked. Glennon Doyle Melton has a natural writing style and way with words. Not to mention, her life is relatable for a lot of women. She followed the prescribed path of manic pixie dream girl (supporting character in enhancing the life of a man while ignoring own needs), but hated every moment of it. She got married and had children after her hard-partying 20s because she thought it would solve her problems, but she never felt herself. Lots of therapy later she fixed a damaged marriage, left a repressive church, and learned a hell of a lot about herself. I respect that, even more because it didn't all work out neatly in the end.
Melton shares a lot of wisdom from her journey. There were takeaways we could all stand to learn, like
I'd rather you resent me for who I really am than love me for who I'm not.
Towards the end it got a bit cloying, but overall a really good book for any woman who's struggling with their identity and place in the world. She has another book, Untamed coming out in March and I'm looking forward to it.
Pursuit by Joyce Carol Oates
Published by Mysterious Press
Publication date: October 1, 2019


Bookshop, Amazon
Joyce Carol Oates is a prolific writer whose novels are always going to be something I try. They just don't always work. Pursuit is a semi-creepy story of a young woman haunted by the death of her parents—an event never fully explained to her. They disappeared. It's a quick read with a gruesome twist, but not one of her best.
Beautiful on the Outside by Adam Rippon: Loved this! Review to follow
The Starless Sea by Erin Morgenstern: 5 star favorite. My review
Before We Were Yours
by
Lisa Wingate
Published by
Ballantine Books
Publication date:
June 6, 2017

Bookshop
,
Amazon
Sometimes all you want is a great story and Before We Were Yours delivers. It's about five siblings who are kidnapped from their parents and put in a Tennessee orphanage that is front for a baby selling ring. With blonde hair and blue eyes, they are prized and the main narrator, Rill, watches as her siblings disappear. The novel is split into dual narratives between Rill's life in the 1930s and the life of a successful lawyer, Avery, in the present day. Of course, there is a link between the two, but what?
Alternating chapters did not serve this novel well. Rill's story was infinitely more interesting than Avery's, even if the two were ultimately connected. That aside, this is quick reading—and based on a true story (Tennessee Children's Home Society).
Necessary People by Anna Pitoniak: My review
The Whisper Man by Alex North: review to follow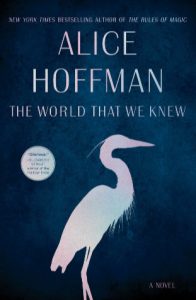 The World That We Knew
by
Alice Hoffman
Published by
Simon & Schuster
Publication date:
September 24, 2019

Bookshop
,
Amazon
A mother desperate to save her beautiful daughter Lea from the Nazis asks a favor of a rabbi. He refuses because it is something forbidden, dangerous. But the rabbi's daughter, Ettie, is willing to risk everything to help this woman and herself. They create a golem—a creature made from mud that can be brought to life with proper words and rites. It has one goal: to protect. It has superhuman strength and learns quickly, but cannot speak, has no soul, and if left alive too long it can turn on humans. Knowing all this the women continue and go even further. They make their golem a woman and give her the power to speak. She is Ava and she is the creature at the center of Alice Hoffman's novel, The World That We Knew.
Hoffman's words as still as beguiling as ever, but The World That We Knew got a bit lost in its plethora of characters. Julien, Viktor, Lea, Ava, Madeline, Marianne…the diaspora of Jews lost, hunted, and betrayed in France during the war is difficult to track. The stories were still compelling but I was not able emotionally engage with any of them before Hoffman moved to the next. The only sense that pervaded the novel was that they would all be returned to a place they needed to be. In the meantime, I was left lost.
How was your November reading?
This post may include Amazon links. As an Amazon Associate I earn from qualifying purchases. This helps offset the ongoing costs of maintaining the blog.
Related Posts