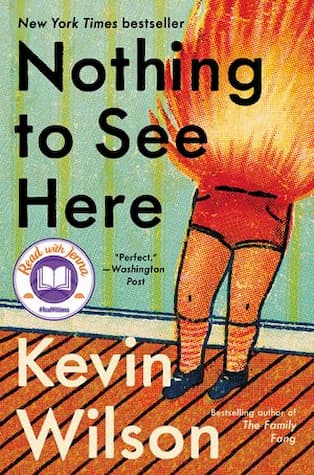 Friday's book review was a little dark so I'm starting the week with something much lighter. Not only did I never think I'd read a novel where children spontaneously combust, I definitely didn't think I would chew through it one night and fall in love with it on page four. Which is to say, don't underestimate Kevin Wilson's ability to create improbable worlds and make them feel completely believable. In Nothing to See Here ten-year-old twins, Bessie and Ronald are the fiery little humans. Their mother recently died and their father, a senator with presidential aspirations, is reluctant to let them back into his life. His wife, Madison hires a high school friend, Lillian, to be their caretaker, until they're sure the children will fit into their photogenic, carefully curated life. What could go wrong?
Lillian and Madison met in their teens at an expensive boarding school. Madison came from lots of money and Lillian was a scholarship student. Things did not go well and while Madison moved onto a prestigious marriage, Lillian now lives at home and works two jobs at low-end stores. When Madison says she wants to hire her, Lillian goes without question, hoping that their semi-dormant friendship is going to be rekindled and that whatever Madison has in store will propel Lillian out of her dead-end life. To say she's less than enthused to find out she's going to be a nanny, especially to flammable children, is an understatement.
I mentioned reading Nothing to See here in one go, but that doesn't adequately convey how invested I got in the story. It wasn't the 'children who burn without burning' aspect. That was actually what kept me from the novel in the first place. No, it was everything else. Wilson puts such care into his writing that the outlandish premise takes a backseat to reality. There is Lillian—disaffected, bored, probably a little homicidal if truth be told, and with no interest in children. There's Bessie and Roland, who are borderline feral from being isolated and treated like freaks their entire lives.  Jammed together in a setting that, although luxurious, is still set apart from everyone else. Three unlikely, and somewhat unlikable, humans forced to cohabitate and interact for an entire summer. Which all parents know might as well be eternity.
As important as Lillian and the children are to the story, Wilson doesn't slack off with the supporting cast. Every single character in the novel contributes to a whole that is complicated, but believable. He writes with a confidence that elicits full buy in from the reader (Kids who start themselves on fire when they're angry? Sure!), allowing the underlying issues to surface. That he pairs all this with such delicious humor is why Nothing to See Here is my first five-star book of 2020. Highly recommended for maximum entertainment.
This post contains affiliate links which means if you click on a link and make a purchase, I get a small commission (at no cost to you).
Related Posts