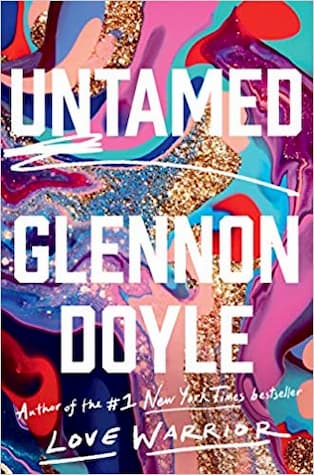 Several weeks ago, I enthused about a novel that I thought was outstanding even though it was DARK (The Road, which I would not recommend reading anytime soon). Now I'm back to balance the scales by going full-on evangelical about a book so bright it glows. Untamed is Glennon Doyle's journey, extracted and distilled into a nourishing and energizing blend of inspiration, wisdom, humor, and practicality.
I enjoyed Doyle's last book, The Love Warrior, but Untamed is on another level. It begins when Doyle's life implodes after meeting Abby Wambach, the woman who is now her wife. Doyle was married, with three children, at the time. For the first time, at age 40, she begins to question everything about the life she's living
I looked hard at my entire life and asked: How much of this was my idea? Do I truly want any of this, or is this what I was conditioned to want? Which of my beliefs are of my own creation and which were programmed into me? How much of who I've become is inherent, and how much was just inherited? How much of the way I look and speak and behave is just how other people have trained me to look and speak and behave?
These questions and her feelings for Wambach bring tremendous fear and pain, but rather than turn away to avoid the pain, Doyle leans in and digs deep. This alone is a foreign concept to me, as I imagine it is to a lot of women. I want to move away from pain as quickly as possible. What makes her different is that she doesn't then offer ways to ease or remove pain, but shows it as a necessary part of life and that, despite how it often feels, it doesn't kill.
If you are uncomfortable—in deep pain, angry, yearning, confused—you don't have a problem, you have a life. Being human is not hard because you're doing it wrong, it's hard because you're doing it right. You will never change the fact that being human is hard, so you must change your idea that it was ever supposed to be easy.
In fact, there are no easy answers in Untamed. What there is is the guiding principle that the stories we've been force-fed as women are NOT who we are. That we need to question anything and everything that doesn't resonate with our core beliefs. For Doyle this meant questioning every aspect of the patriarchy, including organized religion.
I have learned to live by faith, which does not mean I live by a set of unwavering beliefs or dogma that men laid down ages ago to keep their power by controlling others. My faith has nothing to do with religion anymore…Because to me, God is not a being outside of me…
Untamed isn't only about tearing down outdated and toxic institutions and beliefs. Doyle is, at heart, one of those people who leads naturally by following their own advice. Advice that she shares throughout the book. And it is not simply a diatribe against men. She looks at motherhood, racism, identity, activism, and addiction, and manages to succinctly express what many of us struggle to explain. For instance, regarding the current administration's policies of separating children and parents at the border:
Privilege is being born on third base. Ignorant privilege is thinking you're there because you hit a triple. Malicious privilege is complaining that those starving outside the ballpark aren't waiting patiently enough.
Which sums up so many of the problems we're facing now. Problems she thinks women can and should be solving instead of going along with the patriarchal status quo.
Untamed is the book for our times. Doyle is able to stand her ground, claim her mountaintop, and speak her truth all while not stomping on everyone else around her. Unless, they belong to a group that has been happy to keep women in check…and tamed. Then she has no mercy. Not only does she unleash her formidable inner strength, she uses facts and history, some of which I'd never heard before. This leads to moments of outrage when reading Untamed, but Doyle doesn't let the anger fester. She pokes and prods, cleans out the wound so it can heal and something better and stronger can come from it. A better and stronger woman.
I adore this book. I believe it to be self-care for every woman out there. I found wisdom, insight, and humor on virtually every page. It's written in small chapters, without a timeline, and reads like that one conversation you have with a new friend when you finally cross over from the superficial into the guts of life and truly connect. A friend who has looked her own fears and flaws in the face, owns them, and grows from them. What's not to love about a woman who says
Being both depressed and anxious is a bit like being Eeyore and Tigger at the same time.
Who thinks of that? And who, once they've heard it, can think of their fractured, crackling psyche as anything else?
I realize I've crossed over from a review into an admiring fan, but for anyone who has read this blog or knows me well—I don't get giddy often. Especially in the last four years and now in the last four weeks, when it feels like we've entered a time when everything we've ever known has been flipped upside down and shaken hard. Yet, I may love a book, but still know it's personal and won't work for everyone. Except…THIS is a book for every woman. Glennon Doyle is achingly, squeezably real, profound, open, and profane.  Untamed is an experience you shouldn't miss.
This post contains affiliate links which means if you click on a link and make a purchase, I get a small commission (at no cost to you).
Related Posts