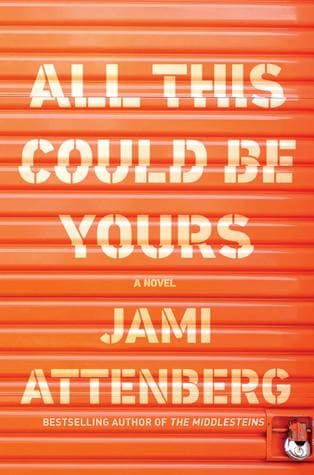 After another evening spent sniping at his wife about her excessive spending, 73-year-old Victor staggers off to bed and suffers a heart attack that leaves him unconscious and at the edge of death for much of Jami Attenberg's novel All This Could be Yours. Instead of a heartfelt outpouring of memories and love, this is a novel of bitterness and acrimony, all caused by Victor. I've read novels with unlikable characters and bad men and Victor ticks all the boxes. He's a liar, a white-collar crook, adulterer, abuses his wife and children, and has pretty much alienated everyone around him. Attenberg positions his inert body at the center of this excavation of the past, giving the reader front row seats to decades of unearthed pain.
Neither of Victor's children, Gary or Alex want anything to do with him and have led lives far away from his toxicity. Their antipathy towards him is almost matched by their feelings towards their mother, Barbra, who seemed throughout their lives to, if not aid Victor, at least turn a blind eye to his callous and sometimes violent behavior. In particular Alex, a divorcee and lawyer, is obsessed with how and why her mother could have stood by such a man for so long. As they gather in the hospital she picks and picks at the secrets of her mother's loyalty to Victor, as if the pain of pulling off the scab will change the trajectory of her own personal life.
Through all this she had periodically tried to meet her mother's distant, misty gaze, just to let her know time would soon be up; her mother would have no one to hide behind, nor a reason to keep any secrets from her any longer…Alex knew there was so much more to the story of their lives together, and she was determined to get it.
But Barbra will not yield to her daughter's questions. She made her choice shortly after she and Victor met. In her mind,
To know anyone's weaknesses had never helped Barbra in any way. To know their strengths, what they had to offer her, how they could surround her with things she desired, how they could shield her from the world—those were the things worth knowing about a person.
The cost of this life is one she's willing to pay, regardless of its impact on those around her.
Attenberg keeps All This Could Be Yours addictive reading, while still plumbing psychological depths. When Frank finally confesses his crimes against other women Barbra is most upset because
She had thought he struck her because he cared. Because she had wound her way so thoroughly under his skin, into his system, that he had been left with no option but to strike out in anger. It turned out, though, he was angry at everyone. Was I ever special at all?
I was stunned by this sentiment, both for its level of insight and because it's nothing I ever heard about as part of the abuse cycle. My ignorance aside, Attenberg weaves some kind of witchy magic that keeps the book's pace moving fast while still lobbing gut-punching truths. Not an easy feat to pull off, but it is done so well in All This Could Be Yours that even as I was continuously repelled by Victor's horribleness I was fascinated by the novel's psychological complexity. Attenberg goes beyond the lives of her main characters and gives every character a voice, even ancillary ones who only appear in scenes not chapters. Each one presents another facet of the human experience. Each one left me more invested in this fictional world.
This book really got under my skin, to the point that I re-read it (originally read it last year) to write this review. Sometimes, a novel doesn't hold up so well to a second reading, but that's not the case with All This Could Be Yours. This time around Attenberg's skill with nuance, all the permutations of human emotion, are even clearer. It makes the novel one of those rare books—one that works on a lot of different levels. Want something to tear through while staycationing? Or something meatier to make you think? All This Could Be Yours is both, superficial and an intimate foray into one dysfunctional family. Highly recommend.
And all of humanity is difficult, hard in our own way, every damn day, and we only get truly easy when we are dead. And even then.
Other backlist novels that move beyond the surface of dysfunctional families: Talk to Me by John Kenney, Standard Deviation by Katherine Heiny
This post contains affiliate links which means if you click on a link and make a purchase, I get a small commission (at no cost to you).
Related Posts