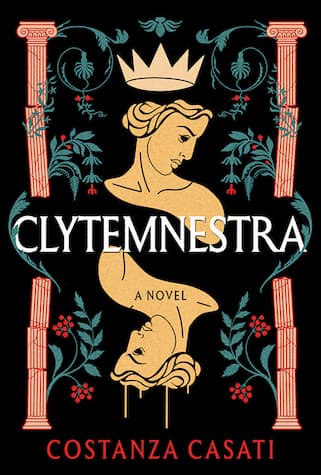 I may be struggling with my new release reading recently, but Greek mythology retellings continue to make me all kinds of happy. Clytemnestra by Costanza Casati is my latest favorite, a bold portrayal of a woman known only as the vengeful wife of Agamemnon, the King who won the war with Troy. The other 'facts' of Clytemnestra are these: Helen of Troy was her sister, she had an affair with her husband's cousin while Agamemnon was away for 10 years, and she murders Agamemnon when he returns a hero from Troy. Casati takes these limited details, goes back to Clytemnestra's childhood, and expands her from a footnote into a compelling woman who decides to create her own destiny, even if it means flouting society's rules.
Clytemnestra was a princess of Sparta, a real kingdom in ancient Greece known both for its fierceness and the relative equality between the genders. Not just its men, but its women were trained from a very young age to fight, hunt, and compete in athletics. Clytemnestra was skilled in all of them, but was also known for her clever mind—her father often turned to her for political advice.  From the beginning, she's been raised to be the mental and physical equal of any man, and yet at a pivotal moment in her life, her father takes it all away from her and marries her to Agamemnon, a man she despises. With no choice but to accept her fate she goes with him to Mycenae and performs in the role of dutiful queen. Her sister Helen's foolish actions result in an event so vile; it shifts Clytemnestra's trajectory. If her life is going to be a tragedy, it will be on her terms.
All is not brutality in the novel. Much of Clytemnestra reads like a contemporary dysfunctional family saga. Her family is rife with drama, including the paternity of Helen and one of her brothers, Polydeuces. At the same time, the bond between siblings and the details of life in ancient Sparta makes this feel less like mythology and more like compelling cross between historical fiction and The Hunger Games.
As created by Casati, Sparta is a world of contradictions. Women are prized, for bodies and their minds, but the choices in their lives was still left to the men. This is a breeding ground for resentment and retribution and both are skillfully brought to life in the figure of Clytemnestra. A woman raised to believe in her worth who ends up being subjugated by a physically stronger, but intellectually weaker man. She's able to bide her time, until he's gone at which point she takes over ruling his kingdom and brings it more peace and prosperity than it's ever had. All with the fire of burning vengeance in her bones.
Mythological interpretations have painted Clytemnestra as a weak-willed, bitter woman with no appreciation for her husband's greatness, but in Casati's hands this "difficult" woman is an intriguing anti-hero. One has to wonder: If she'd been written as a man would her actions still have been reviled…or would she join the pantheon of mythology's heroes?
"Sometimes you have to make life difficult for others before they make it impossible for you."
This post contains affiliate links which means if you click on a link and make a purchase, I get a small commission (at no cost to you).
*I received a free copy of this book from Sourcebooks in exchange for an honest review.*
Related Posts