The Identicals
by
Elin Hilderbrand
Publication date:
June 13th 2017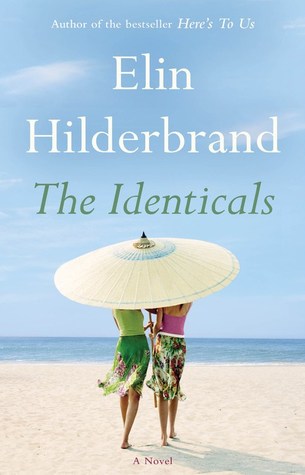 Happy second Friday of the summer and the cap to my great summer reading week! This one is almost a no-brainer because Elin Hilderbrand is the quintessential light, vacation-reading author and her newest novel, The Identicals is as refreshing and fun as popsicles (or mojitos) next to the pool. In it, identical twin sisters, Harper and Tabitha, are compared to twin New England summer hot spots: Nantucket and Martha's Vineyard. In fact, Harper lives on the Vineyard and Tabitha lives in Nantucket and both would be more than happy to tell you why their location is the better one. They also would not hesitate to share why they haven't spoken to each other in fourteen years—and their stories wouldn't match. Things have to be very dire indeed for them to turn to each other for help but that's exactly what happens at the beginning of one summer.
With two sisters, Hilderbrand creates one complete hot mess. Externally, it is Harper, with her inadvertent involvement in drug trafficking in her youth, lack of career—unless driving a delivery truck counts, and most recently, sleeping with the town's favorite doctor, who's married. Tabitha has a bit more shine on her. She's running her mother's clothing business, has money and class, but inside she's miserably unhappy. Her infant son died unexpectedly, she's raised her daughter, Ainsley, to be an entitled hellcat and she's just run off her most recent boyfriend. Hilderbrand engineers a plot that means Harper and Tabitha have to come together to help each other out—as much as they'd rather eat their own kidneys than do so. Tabitha goes to Martha's Vineyard to refurbish their father's home so it can be sold after his death and Harper goes to stay in Nantucket because Ainsley cannot be left alone and their mother's fancy store has to be kept running.
There are no great surprises in The Identicals, BUT that's not to say the novel is predictable or schmaltzy—two characteristics that evoke an automatic DNF (Did Not Finish) on my part. The novel may not be the pinnacle of ingenuity in plot but Hilderbrand has the skills and creativity to put her characters together in situations that make for ideal easy reading. They're interesting and intelligent and the plots don't stray into the implausible. My biggest beef with The Identicals? The fact that only Harper bears the stigma for the affair with the doctor. I don't want to get all pedantic, but she's single so, while her actions were morally questionable, she didn't cheat, he did. Why isn't the popular doctor run out of town? That kind of sexist attitude I always going to yank my chain—even when it's not a major plot point.
Personal peeve aside, The Identicals was everything I wanted and needed in a summer book. Harper and Tabitha embark on a grown-up The Parent Trap scenario minus the parents but full-on taking over each other's lives and it works. Hilderbrand employed romance, bitchery, drama, and growing up to keep me engrossed and amused for hours. She defines "easy" reading at its best—a valuable talent for readers looking for complete escape without loss of IQ points. Is the chaos and negativity of today's world more than you can bear? You wish it was back-to-school time? The soaring temperatures and humidity where you live are fusing you to the pavement? Open The Identicals and suddenly the page will be the only place that has your attention.
Related Posts