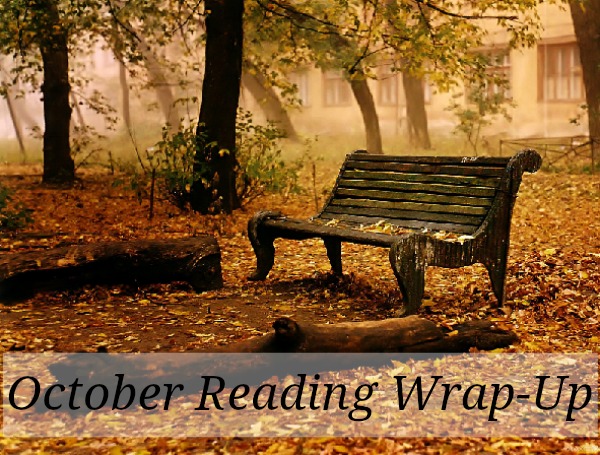 I realize it's already the first week of November but last week was taken up with family and I could not get myself pulled together until  the weekend. Having said that, as much as I'd like you to read on, if you haven't voted…GO VOTE.
Done your civic duty? Super! Well, October was not a big reading month, mostly because I took on a 700 page novel, but the majority of books I read fall into the 'really good to great' category, which is always a reason to be happy.
Cravings: Hungry for More
by
Chrissy Teigen
,
Adeena Sussman
Published by
Clarkson Potter
Publication date:
September 18, 2018

I'll start with non-fiction, mostly because I read so little of it. I know Chrissy Teigen as an outspoken and funny celebrity, but I didn't know about her love of food. Now I do and her newest, Cravings: Hungry for More is a magical unicorn of a cookbook. The pictures are food porn and the recipes are written with such humor and a down-to-earth attitude that I read the book like a novel.
The Party
by
Robyn Harding
Published by
Gallery/Scout Press
Publication date:
June 6, 2017
Simply put, The Party is a tale of a sweet-sixteen slumber party that goes horribly wrong, despite on-site parents who try to do everything right. From there the novel spirals into everything that is wrong with the world today: lawsuits for the sake of revenge and greed, vicious high school mean girls, predatory boys, status obsessed parents…you name it. The writing is good, but the ending, which is a massive twist, only made me angrier because it made no sense as to why this person would choose those actions after everything that has already happened. NO. SENSE.
Killing Commendatore by Haruki Murakami (review to follow)
From the Corner of the Oval  by Beck Dorey-Stein (my review)
Bitter Orange
by
Claire Fuller
Published by
Tin House Books
Publication date:
October 9, 2018
I loved Claire Fuller's debut, Our Endless Numbered Days. She is a charming and enthusiastic author who gives freely of her time to bloggers. All of which means I was predisposed to enjoy her newest novel, Bitter Orange. Unfortunately, I really didn't care for it and mostly skimmed it. It's the story of a mismatched couple and a lonely woman stuck in an old house for a summer. Nothing is as it seems, but the levels of oddity went too high for me (one woman believes she had a virgin birth). Instead of making me uncomfortable in a good way, it felt awkward, as if several possibly good stories had been forced together in a bad fit.
In the House in the Dark of the Woods by Laird Hunt (review to follow)
Unsheltered by Barbara Kingsolver (my review)
Time's Convert
by
Deborah Harkness
Published by
Viking
Publication date:
September 18, 2018
This is so painful—another big fall read that left me brutally disappointed (I'm looking at you Transcription). Even worse, despite having devoured Harkness's All Souls trilogy, I DNFed Time's Convert.  While the vampiric aspects are still fascinating and fun, much of the plot centers around the American Revolution and patriarchal society. Not interested.
Give Me Your Hand
by
Megan Abbott
Publication date:
July 17, 2018

What's to say about Give Me Your Hand? Megan Abbott is the queen of twitchy, twisty novels about teenage girls and what a surplus of hormones can do. This one is actually about PMDD, a little understood kind of PMS. I was more interested in that than the story. You can check out the synopsis on Goodreads, if you're interested. It was good, but not my favorite of hers.
Great Reading from Previous Years
Sharing the love for these four backlist books that I thought were outstanding

!
October 2014:
October 2013:
How was your October reading?
Related Posts