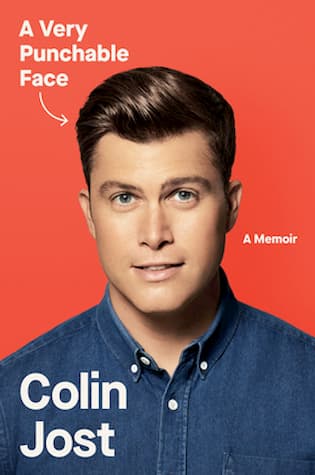 If you're a fan of Saturday Night Live then you'll know the name Colin Jost. If not, he's one of the anchors for Weekend Update and a very funny man. His memoir is called A Very Punchable Face and listening to it with him narrating, had me driving around aimlessly so I didn't have to stop. Beyond the funny is an unexpectedly interesting man.
The title comes from the fact that Jost has a very clean cut, Ken doll look to him. Or as he's been told, bland, smug, and punchable. This memoir scrambles that narrative. Jost is not a rich, pretentious, WASP. He's from Staten Island, his mother was a doctor working with the NY Fire Department, and his father a high school teacher. His childhood is a normal one, but his stories, especially about his relationship with his younger brother, made me laugh out loud (mostly because they resemble my own brothers' intense, fractious (OK, violent) relationship). He won a scholarship to Regis High School in Manhattan that necessitated a two hour commute each way five days a week.
A Very Punchable Face is filled with wry, self-deprecating details. A fairly unathletic human, Jost passed much of his teenage years eating and gaining weight. College provided a respite because he took up crew and was able to consume 5,000 calories a day with no effect. A goal he continued to eat even after he stopped rowing. Which became a problem. Then there's the fact that his major was Russian Literature and despite knowing Mark Zuckerberg, felt confident telling his parents that the early version of Facebook was not where the money was going to be. It was print journalism.
These anecdotes make A Very Punchable Face great listening. There's also Jost's history of illnesses and accidents that, if not told in the first person, would seem fake. At 38 he's been in the ER more than most people go in a lifetime. But it's not simply humor the kept me listening. Jost's mother was at the World Trade Towers on 9/11. Through her, and living on Staten Island, his family knew many of the first responders who gave their lives. His recollection of that day and those that followed is deeply affecting.
All of this is layered in with Jost's recollections of the last 15 years as SNL's head writer. The combination of his professional and personal life make A Very Punchable Face less a comedian's one-liner and more a well-written look at one's man's path to achieving his dream—and what he might do next.
This post contains affiliate links which means if you click on a link and make a purchase, I get a small commission (at no cost to you).
Related Posts