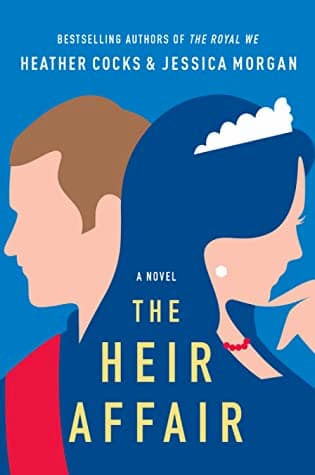 American Rebecca (Bex) Porter seems to have won the lottery when Britain's second-in-line to the throne, Prince Nicholas, falls in love with her. Of course, it's not that simple, but it does make for fun reading in The Royal We. That novel ended with Bex and Nick married, but already engulfed in scandal. When The Heir Affair opens they are hiding out in remote Scotland, but realize they have to go back to the real world when Nick's grandmother Eleanor, the Queen, has a health scare. Reality continues to push hard as Bex has to negotiate the scandal that's turned much of Great Britain against her. Not to mention that her number one job is to produce the next heir.
Now more than ever, fun reading is a necessity not a luxury and The Heir Affair is just that. Bex and Nick are newlyweds, but the royal kind. Every aspect of their lives is under a microscope and friendly faces are hard to come by. Things are awkward with Nick's brother Freddie (the spare heir), their father is as cold and judgmental as ever. As for Eleanor, an American commoner will never be good enough. Everything is a minefield, including the new apartment in Kensington Palace they've been assigned. It belonged to Eleanor's wild child sister, Georgina. Who was basically a hoarder—only with really good stuff like priceless antiques and a lot of personal letters and journals.
Family secrets, the royal life, young love and new marriage, along with the pressure to get pregnant are the various ingredients brought together to make the delicious confection that is The Heir Affair. Is it more soufflé than sundae? Sure, but who needs heavy richness right now? I devoured this novel from start to finish, even as the intrigue reached new heights. It's well-written fun, plain and simple, and required no mental effort on my part to enjoy. You also don't need to have read The Royal We to read The Heir Affair, but why not? It came out years ago and should be easy to get at the library or inexpensive to purchase at the book store. That way, you'll have twice as much scandalous entertainment to savor.
This post contains affiliate links which means if you click on a link and make a purchase, I get a small commission (at no cost to you).
Related Posts