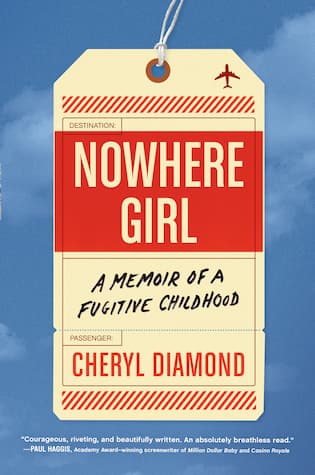 I'm seldom at a loss for words, but I recently finished a memoir that left me…???…!!! Nowhere Girl by Cheryl Diamond follows Diamond from when she is a small child to when she is 30. In that time, she lives in an astonishing number of places, whether it's countries or cities within states. Her name and identity changes each time. Chapters marking her age and location evoking the feeling of a tightknit, free-spirited family giving way to increasing deception, violence, and, ultimately, the truth.
Cheryl's birth name is Bhajan. Her earliest memories, at four years old, are of traversing India with her parents and two older siblings, Frank and Chiara. They are devout Sikhs, speaking Punjabi, never cutting their hair, and being strict vegetarians. The children are homeschooled as their father believes educational institutions stifle the individual. When their spiritual journey loses its appeal, the family goes to Australia where Bhajan, age 5, emerges as a gifted and fiercely competitive athlete. She attends exclusive, competitive gymnastics training clubs. Money is never an issue and hiring coaches and enrolling in national-level camps is a given. By the time she is ten Bhajan will have lived in Australia, South Africa, Canada, Germany, Romania, Egypt.
For a child, it is a life of freedom and excitement. It's the coming-of-age for both Diamond and her siblings that causes the tectonic shift in their family. The desire for friends, socialization, autonomy. Some of it is assuaged by competition, but even that becomes stressful.
When it all began, I danced and tumbled out of joy, but lately, I'm chasing something else.
Bhajan begins to have more injuries than success and is now old enough to be let in on the family's situation. She learns the word Interpol and finally meets the woman who's been providing them with passports and identities. Pressures and her father's increasingly dictatorial behavior cause further fissures in the family dynamic. Now settled in the United States the moving in Nowhere Girl continues throughout Bhajan's teenage years and into her twenties, until the decision that changes everything.
Diamond does an outstanding job relaying the facts of a life that sounds like fiction. As a child she was part of a carefree, loving family, with a father who adored her. Hiding and secrets were fun, all part of a noble adventure. But by her twenties what's left of adventure, self-sufficiency, and freedom disintegrates to control, manipulation, and distrust. A child that moved between countries unnoticed is now an adult with no legal birth certificate or any other identifying documentation, who can't go anywhere. A true story, Nowhere Girl is better than most fictional thrillers. Diamond doesn't need to resort to pyrotechnics and over-the-top action sequences. Her story, her life makes for stunning reading that is impossible to put down.
This post contains affiliate links meaning if you click on a link and make a purchase, I get a small commission (at no cost to you).
Related Posts