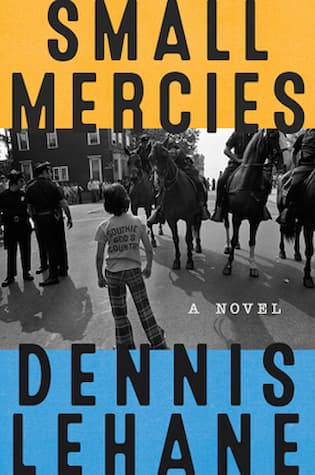 He has no idea where it all comes from—the loyalty and the rage, the brotherhood and the suspicion, the benevolence and the hate.
If you're looking for refined forays into the more delicate human emotions in your reading than Dennis Lehane is probably not an author you read often or at all. He's a bareknuckle bruiser who writes about a Boston unfamiliar to anyone whose ideas of the city come from TV shows like Cheers. His is the Boston with government housing, gangs, and, in 1974, the powder keg of racism. In Small Mercies he lights the fuse to a stockpile of segregation gunpowder and stands back to watch the inferno blaze.
Mary Pat Fennessy is a Boston native. More importantly, she was raised and still lives in the projects known as Southside, home to a long-established line of Irish-Americans. Even within that stratified world, Mary Pat's particular neighborhood is known to be one of the toughest. Where else could a little girl claim as a point of pride that even after her sister hit her in the face with a brick, she regained consciousness long enough to finish the fight? Which is why it comes as no surprise that she goes on the warpath when her 17-year-old daughter doesn't come home one night. A night followed by a morning when the battered body of a young Black man is found near the local subway station.
Tensions in the area are already high, just like the temperatures that sweltering summer, because the government has decreed that white students will be bused to Black high schools and vice versa. Mary Pat was signed up and ready for a march on the mayor's office even though she feels no particular animus towards Blacks. As she sees it, they're fine, but why would they even want to go to school in an area with a culture foreign to their own? One that is arguably as derelict as the schools they already attend?
But now she's got bigger things to worry about. Namely, why no one can tell her where Jules has gone. Instead, her best friend, boyfriend, and his friend all stick to an oddly specific story about the night she went missing. When the police do finally get involved, their efforts are impeded by the fierce loyalties to and fear of local gangs. Mary Pat's bred-in-the-bone allegiance morphs into rage as she discovers the institutions and people she believed would always protect her have now thrown up a wall against her.
From the flashpoint of segregation, Lehane unleashes Small Mercies, laying bare the corrosive effects of racism, gang violence, tribalism, and the economic divide. He writes the hard truths about hatred and how often groups promoting its spread are really just using fearmongering to hide and perpetuate their own crimes. There is no happy ending promised in Small Mercies, but this atmospheric brawl of a novel was not one I could put down.
S.A. Cosby writes the same kind of  propulsive, in-your-face fiction but set in the South in his novel, All the Sinners Bleed.
This post contains affiliate links which means if you click on a link and make a purchase of any kind, I get a small commission (at no cost to you).
Related Posts