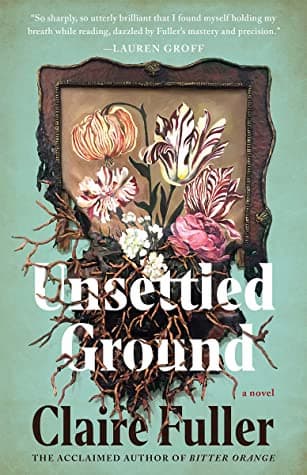 When twins Julius and Jeanie's mother, Dot, dies it signals an end to their life as they've known it. They live quietly in a small rural cottage on enough land for Dot and Jeanie to sell vegetables and eggs by the roadside and to a local grocer. Julius works in construction and does odd jobs. Their needs are small as they don't pay rent on their house; their free time spent playing music together. As Unsettled Ground begins, grappling with Dot's inert body seems to be the greatest of the twins' concerns, but it will soon be the least.
The siblings have always believed that the cottage is theirs for life in repayment for the farming death of their father due to the landlord's negligence. This proves to be false when the man's wife turns up demanding £2,000 in back rent. They have one week before they're evicted. This is just the beginning of Dot's deceptions laid bare. A proud, obstinate, secretive woman she never had a bank account, accepted any kind of help from others or any sort of government assistance, even after her husband died. There isn't even enough money to bury her nor do either of them have any understanding of what needs to be done.
Julius and Jeanie are 51 years old and have never left home. Jeanie suffers from a weak heart due to childhood disease. Dot's concern for her safety was such that she pulled her out of school before she learned to read or write. Since their father's death when he was 12 Julius is unable to ride in any kind of motor vehicle for more than a few minutes. He bicycles everywhere. In a physical sense they are adults, but in most ways their poverty and isolation has kept them like children—reliant on their mother. Even as Jeanie takes steps to earn money she has no idea what to do with her paychecks.
As the dominos tumble they're forced into ever more precarious situations. Dot took care of everything and they are completely unprepared for the world-at-large. This might not feel so strange if Unsettled Ground were historical, but it's set in the present day.  And yet, Claire Fuller crafts their narrow world in a way that feels completely real. Julius and Jeanie's confusion and ineptitude is painful and sad. At an age when most are settling into the rewards of life they're flailing like teenagers. Compounded by the secrets Dot wove around their lives, it's all being stripped away and soon enough there are harsh consequences.
Unsettled Ground seizes the reader, not just because of the twins, but in the way Fuller dulls the rosy glow of fiction both about small town living and parenthood. Dot's secrets weren't just her own, many around her were complicit. Her decisions regarding her offspring were problematic. Much in the same way she did in her debut, Our Endless Numbered Days (which I loved), Fuller melds frustration, betrayal, and resilience to bring forth tender reading.
This post contains affiliate links which means if you click on a link and make a purchase, I get a small commission (at no cost to you).
Related Posts